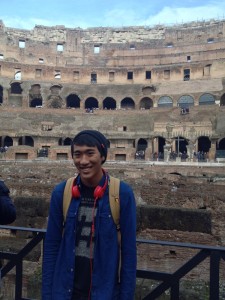 By Meghan Stark
Syracuse Abroad: Where are you from?
Jessie: Lacey, Washington (outside of Seattle)
What made you decide to come to Syracuse?
It kept showing up on a lot on College Confidential and other sites. I wanted to one-up my brother and sister, who had gone to college on the other side of Washington.
What's your major?
Political science. It was originally earth science
What made you decide to go abroad your first semester on the Discovery Florence program?
I always loved the idea of traveling even though I didn't do a lot of it. I always watched a lot of Travel Channel. Also I figured if it cost the same to go to Syracuse versus abroad, I should go to Italy. I was already not gonna know anyone at Syracuse so I might as well not know anyone in Florence.
Do you have any advice for those going abroad their first semester?
Appreciate where you are and explore your own backyard. Florence had so many great museums that were incredible to explore. Some tourist things are really popular just because they're actually awesome. Also to just travel outside your home country – I went to Amsterdam on fall break and absolutely loved it.
Do you have a favorite memory from abroad?
On one of our last nights, my roommate and I went out for food and got all the expensive foods we didn't get a chance to try during our trip.
Jessie Santillan, a senior in political science, is an innovator in the field of mini-bios. In his early years, Jessie decided that his default "fun fact" would be that his favorite Netflix show is Bob Ross' "The Joy of Painting." This long-time wearer of wool socks and Washington State resident has had minimal issues adapting to the Syracuse Snow™. When he graduates this spring, he hopes to finally have time to start the second season of Stranger Things.