In this year's release of the Open Doors report from the Institute of International Education, Syracuse University has been ranked #2 for total student participation in mid-length (semester) study abroad programs for doctoral institutions. This ranking is based on student participation data from the 2018-2019 academic year, accounting for 1,351 Syracuse University students who studied abroad. The ranking reflects the number of students who spent approximately four months living and studying in another country.
During their semester long program, students have the opportunity to live like a local and experience the city as their own. They are able to become 'regulars' in their neighborhoods, finding favorite restaurants, cafes, and pubs. Students are fully immersed in their culture by living with host families, building close ties and experiencing local traditions around food, home life, and holidays. Students are also able to conduct work experience with local companies, forming professional relationships with colleagues of a different nationality and generation than themselves. Over 50% of Syracuse students study abroad throughout their college career.
This top ranking, up from #4 last year, showcases Syracuse University's dedication to study abroad opportunities and global education. Students from all over the world choose Syracuse Abroad for its academic excellence, unique programming and dedicated faculty and staff abroad. As a top-ranked study abroad organization and provider, Syracuse Abroad offers flexible study options, quality academic coursework and innovative experiential learning opportunities so students can build the knowledge and skills to help them succeed anywhere.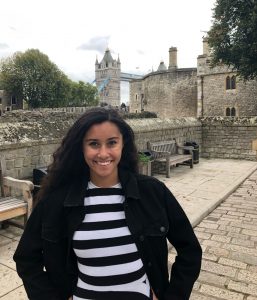 Erin Hernandez '21 of Syracuse University School of Education reflects back on her time at Syracuse London Center in fall 2019. "Studying abroad in London was an adventure of a lifetime, and studying at the London Syracuse Center provided me with opportunities that I never imagined having, but very much appreciated. During the semester, I enrolled in many interesting classes—most of which centered around spending time outside of the classroom and exploring London. My professors saw the importance of making sure I felt like I knew the history and London culture while I was living there for four months." 
Erin also looks back on her participation in a Syracuse Abroad Signature Seminar, a 10 day traveling course that provides students with hands-on learning experience, prior to their semester abroad. "One of those classes was a Signature Seminar in the Republic of Ireland and Northern Ireland, called Borders in Flux. It was a great foundation to start my semester abroad because it was wonderful to read about a topic the night before, and the next day, talk to real people and get to see where the events I read about on paper took place."
Erin also had the opportunity to volunteer while on a school organized field trip to Lockerbie, Scotland. "The London Center gave students the chance to visit the Scottish community of Lockerbie, serve as a mentor to local students, and learn more about the significance of Pan Am Flight 103 for both Scotland and Syracuse. This experience demonstrated the resilience of the human spirit and how positive it can be when people come together to honor those who were lost. I meet wonderful people and will forever appreciate the connection I personally have with Lockerbie. These valuable experiences would not have been possible without Syracuse London."
Open Doors is a comprehensive information resource on international students and scholars studying or teaching at higher education institutions in the United States, and U.S. students studying abroad for academic credit at their home colleges or universities. 
Leading doctoral universities recognized by IIE for total student participation in a mid-length program include the following:
New York University

Syracuse University

Indiana University

University of Wisconsin

Pennsylvania State University