Borders in Flux: Identities and Conflict in Ireland is a Signature Seminar designed for students before they arrive for their semester abroad at Syracuse London. Students will consider the relationship between politics and religion in Ireland, what constructs a 'national identity', and how the violent past of Ireland impacts the present day.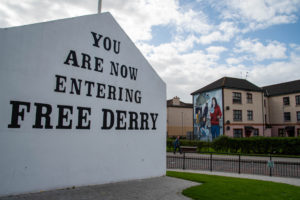 Traveling as a group to the island of Ireland, students will explore themes of religious conflict and peace-making within Ireland; the concepts of 'Irishness' and 'Britishness', and new tensions wrought by international migration and regional politics. Students will explore these topics during their travels to Dublin, Derry, and Belfast.
---
Program Dates
This seminar takes place in both the Fall and Spring semesters as a pre-semester program. Fall 2020 dates are TBD.
---
Course Information
This seminar carries three credits in one of three disciplines: HST 300.4, REL 300.4, or PSC 400.4. You can learn more about the class through this mock newspaper article about the 2016 Easter Uprising and this one covering Bloody Sunday, created by Fall 2019 students.
---
Faculty
Dr. Maggie Scull is a modern historian whose work explores religious institutions, secularization, political violence, sectarianism, and peace. As an Irish Research Council Postdoctoral Fellow at the National University of Ireland, Galway, Dr. Scull focuses on the Northern Ireland Troubles and the role of society, religion, and politics in daily lives as well as international relations. After graduating from Boston University, she earned a Master's and PhD at King's College London while beginning her teaching career, which has included work with American students abroad.
---
Program Itinerary
This seminar involves travel between and around the Republic of Ireland and Northern Ireland with stops in Dublin, Derry/Londonderry and Belfast. Program includes a bike tour around Dublin, a tour of Derry's Bogside, a trip to Giant's Causeway, a Game of Thrones tour in Belfast and immersive museums and lectures in each city.
---
Eligibility & Admissions
All students accepted for the London semester program can apply for this seminar. Space is limited.
If there is insufficient interest, the seminar will be cancelled and your deposit will be applied to your semester charges.
For more information, see the Spring 2020 Borders in Flux flyer.
photo by Ryan Brady, Fall 2019 student