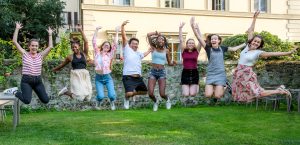 Welcome Discovery students!
Whether you are interested in a Discovery program or are about to embark on your selected program, we have all the information you need to get started! Here you will find logistical information and resources for the Discovery Programs. Please feel free to contact Discovery Advisor Mary Fedorko if you have questions about your program or getting started. You can also check out the Syracuse University Admissions website if you have not applied and wish to inquire more about the application.
Want to learn more about your program from students who have already experienced it? Check out our Discovery Program Global Ambassadors! Discovery program alumni are willing to answer your questions via email at any time!
Hear from our Discovery Global Ambassadors
"Studying abroad in Florence my first semester was by far the best decision I have made thus far in my life, and I would not be the same without it; the discovery program forced me to step outside my comfort zone, and it allowed me to make connections with amazing people that I will cherish forever. Students should know that the staff and students are such caring and supporting people, and that there are so many support systems surrounding them."

-Bailey Davis '23. Florence Discovery, Fall 2019