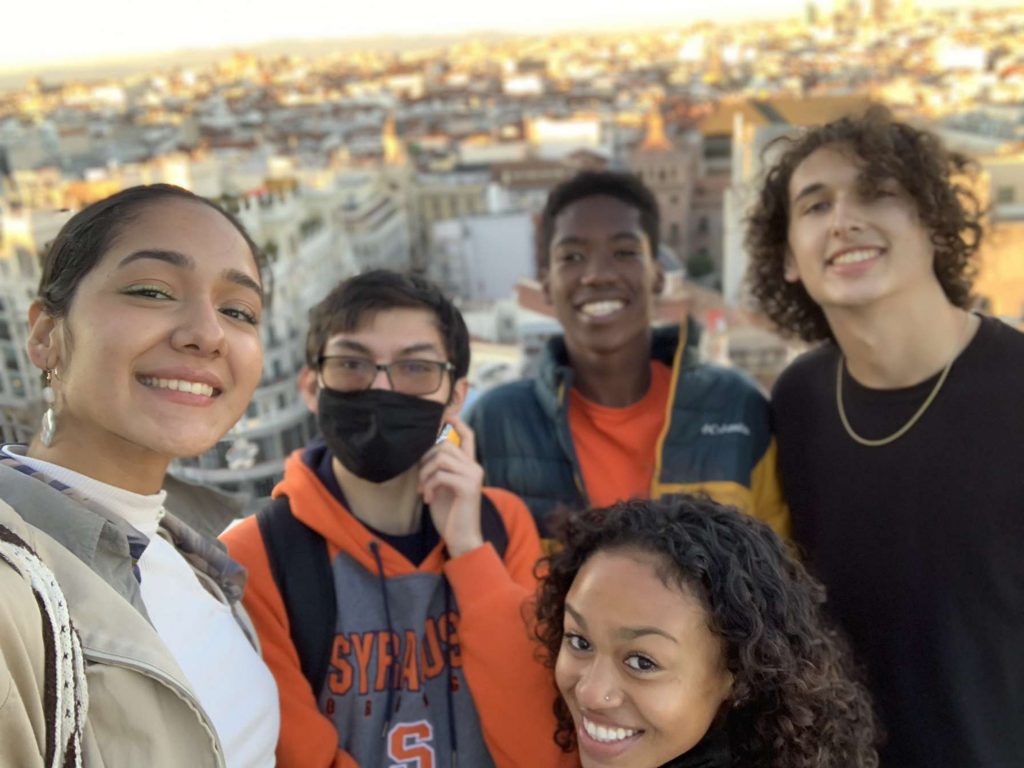 Academics Link
Placement Exams
Do I have to take the Language placement exam?

Yes, all students must take this exam — even if you have never studied the language, and even if you grew up speaking the language at home. It will determine the language level you enroll in.
Do I have to take the Math placement exam?

All Discovery Madrid ECS students are required to take the Math placement exam.

Any Discovery student who intends to take Calculus at SU  must also take the Math exam.
When do I take the placement exams?

Between June 1 and June 21, or as soon as possible.
How do I take the placement exams?

Log into MySlice with your NetID and password. In the Student Home view, click on the Advising tile.

More details about how to take placement exams are available on the Syracuse University Knowledge Base.
Academic Advising
What role will my academic advisor have as I prepare for a semester abroad?

Because the Discovery program fulfills your first-semester academic requirements, it is not required to meet with your advisor about your Discovery course selections. However, please reach out to your academic advisor if you have questions about your individual goals, major/minor selection, or college resources.
Who is my academic advisor?

Discovery Arts and Sciences programs (Florence, Madrid, Strasbourg): Samantha Shaffner, Advisor, A&S Advising

Discovery Arts and Sciences program: Maria Marceau, Manager, ECS Student Records and Study Abroad 
Will my academic advisor help me choose classes for the Discovery program?

All Discovery program curricula are designed so that you progress at the same pace as your home-campus peers and take the same required courses.

Discovery Engineering/Computer Science students (Madrid): Your course selections are determined by your major. If you have AP or other college credit, you may be able to choose an elective. Your academic advisor, Maria Marceau, will review your selections to confirm them and will be in touch if changes are needed.

Discovery Arts and Sciences students (Florence, Madrid, Strasbourg): You will take several courses required of first-year students. In addition, you will choose from several optional (elective) courses.
Other Academic Questions
Who will be in my classes with me?

In some classes (like First Year Seminar or WRT 105), you'll meet exclusively with other Discovery Program students. In others, you'll learn alongside sophomores, juniors, and seniors, as would be the case on the main campus.

Most Discovery ECS students will take MAT 295 (Calculus), and many also take CHE 180.1 and CHE 180.2 (General Chemistry lecture and lab), which are open to all Madrid undergraduates.
I took an AP or IB exam (or a college-credit-bearing class). Am I exempt from any required course?

You might be! But first, your home college needs to receive confirmation of your college credit, typically in July. Once the credit is entered into MySlice, your registration can be adjusted accordingly.

WRT 105: You can choose a different course in place of WRT 105 if you:
Earn an AP exam score of 4 or higher in English Language and Composition or in English Literature and Composition),
Earn an IB exam score of 5 or higher on the Higher Level Exam in English, or
Have earned other college-level credit toward the A&S Liberal Arts Core writing requirement.
MAT 295 or CHE 180.1 + 180.2: Discovery Engineering/Computer Science students may choose a course in place of one of these courses if they earn an AP exam score of 5 on the relevant exam.
My AP or IB exam results haven't arrived yet. How should I proceed?

If your scores don't arrive before our office registers Discovery students, we will register you for the required course even if you expect to be exempt. We will adjust your registration accordingly upon receipt of your qualifying score.