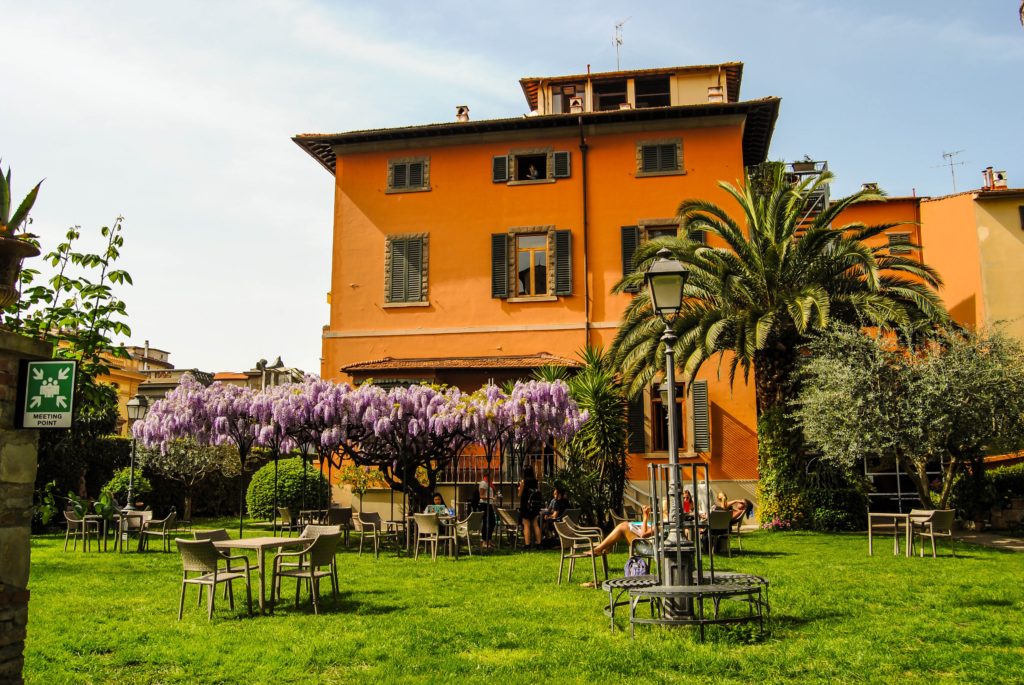 Welcome to the Daniel and Gayle D'Aniello Syracuse University Program in Florence!
For hundreds of years, Florence has remained a perpetual fountain of creativity and intellectual thought. The city is bursting with architectural and artistic masterpieces waiting to be explored. In addition, you'll find a city that's fast becoming an international hub for European politics, business, and international education.
Expect to be deeply engaged with your studies and host culture. Site visits within Florence and field trips throughout Italy and beyond are integral to the academic program, and your homestay will round out both your personal and educational experience. Consider supplementing your academic program with one of over 50 internship opportunities. To learn more about faculty, student life and health & safety, visit the Syracuse Florence website.
Life Trustee Daniel D'Aniello '68, H'20 and his wife, Gayle, are gifting $10 million toward significantly enhancing our Florence program. The transformational nature of this gift will expand opportunities for students, attract exceptional faculty and improve facilities in Florence, Italy. In honor of the couple's gift, the program will be renamed the Daniel and Gayle D'Aniello Syracuse University Program in Florence. Read full story.
---
Apply now for fall 2024 programs in Florence, Italy
Click on the appropriate program title below for more information and to begin your application.
NOTE: The Syracuse Florence programs have a "rolling admissions" policy, which means applications are reviewed as they are completed, prior to the deadline.  To ensure full consideration, students are strongly encouraged to apply as soon as possible due to limited space. Date of application does not guarantee acceptance.
Exception: Applications for the Florence Design and Florence Engineering programs will be reviewed for admission after the deadline.
This program is for students who wish to take all of their courses at Syracuse University's Center in Florence. It offers Italian language courses at the beginner, intermediate, and advanced levels, along with a broad selection of courses taught in English. Most students choose this option. Deadline: October 1/March 15; GPA – 2.5
Take your Italian language classes at the Centro di Cultura per Stranieri (part of the University of Florence), located just across the Piazza from the Syracuse Florence Center. The Centro hosts students from around the globe, allowing you to interact with students from all over the world while studying Italian language and culture. Deadline: October 1/March 15; GPA – 3.0
This program offers full cultural and academic immersion for students who would like to study alongside Italian students in selected courses at the University of Florence. Courses are instructed in Italian and offered in a wide range of disciplines. Deadline: October 1/March 15; GPA – 3.0
This program is only open to Syracuse University students. The Syracuse Florence architecture program is designed for students enrolled in the architecture program at Syracuse University who have completed five semesters of design studio. Deadline: September 1/February 10; GPA – 2.5
This program is designed for studio art majors or minors, offering studio classes in disciplines including (but not limited to) painting, drawing, ceramics, and photography. Studio arts students typically enroll in 2-3 studio classes, Italian language, and one other elective course at the Syracuse Center. Deadline: October 1/March 15; GPA – 2.5
(Spring only) This program is open to second-year students in aerospace, chemical, civil, environmental, and mechanical engineering programs. Courses offered cover most engineering and math requirements for sophomore spring semester in aerospace, chemical, civil, environmental, and mechanical engineering programs. Deadline: September 15; GPA – 3.0
(Spring only) Students in a variety of creative majors are invited to apply to participate in the Syracuse Florence design program. This program offers participants the opportunity to take courses in collaborative design and contemporary design history, complemented by studio and academic electives. Deadline: September 15; GPA – 2.75
Applications for admission will be reviewed after the September 15 deadline.  In order to ensure a high quality experience in this interdisciplinary program, the Florence Center: Design program will only open if both the Florence Center: Design and London Center: Design programs have sufficient demand. Students may be asked to move their application to an alternative Syracuse Abroad location if enrollment minimums are not met.  If the number of applicants exceeds capacity, decisions will be based on portfolio submissions, performance in the major, and cumulative GPA.
(Fall only) The course schedule at the University of Florence (UniFi) includes a variety of courses in economics and political science offered in English, which provides an exciting opportunity for Syracuse Florence Center students who are not proficient in Italian language to take a class with Italian students. These classes will meet at UniFi, an approximate 20-30 minute one-way commute from the Syracuse campus. Deadline: March 15; GPA – 2.5
(Fall only) This program is open to Wake Forest University students who have declared or intend to declare a major in a Wake Forest University School of Business program: Accountancy, Business and Enterprise Management, Finance or Mathematical Business and plan to take 2 of the 3 core business courses along with Florence Center courses. Deadline: January 15; GPA – 2.5
The Graduate School of Syracuse University and the Department of Art and Music Histories conduct a one-of-a-kind M.A. program devoted to studying Renaissance art in Florence. It offers highly motivated students a unique opportunity to carry out advanced research, including first-hand examination of art, architecture, and urban settings. Already at the master's level, students make original contributions to the field: they collaborate in a research project and present the results of their study at the annual Symposium in Florence. Candidates first apply through the Syracuse University Graduate School and are screened and ranked by the Department of Art and Music Histories' Graduate Committee. Once you are on campus for the first Syracuse-based semester, you will apply through Syracuse Abroad to go to Florence.
---
Program Highlights
---
Talk to recent Syracuse Florence students!
The best way to understand what to expect in Florence is to talk to someone who has already participated in the program. Florence global ambassadors took part in school field trips, found the best gelato in the city, and immersed themselves in Italian life with their host families – ask them about Florence!
"Through studying abroad, I have become a much more confident and independent person. It has also affected the way that I view architecture; being able to see architecture in a European perspective has been incredibly insightful for me and motivates me to continue looking to other places in terms of architectural education and practice."


-Olivia Porrill '24
Read more about Olivia's experience: Studying Architecture in Florence and London
---
"We learned about EU culture in relation to American culture from a European perspective, because my professors were Italian. Listening to their perspective about how things unfolded between the EU and the US was eye opening to me."

-Bailey Davis '23, Discovery Florence
---
Syracuse Florence Viewbook
An overview of the Syracuse Florence program is available in our viewbook. Request a copy of your own by filling out this form to have one mailed to you!