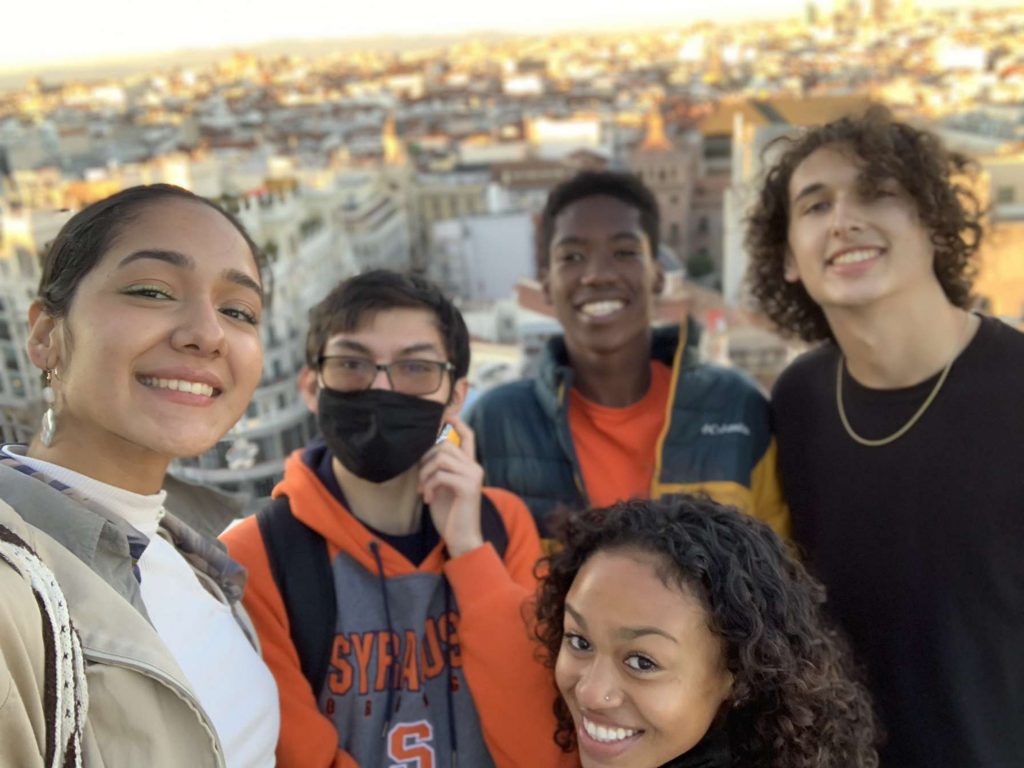 Discovery Program Frequently Asked Questions Link
---
Academics Link
Placement Exams
Do I have to take the Language placement exam?

Yes, all students must take this exam — even if you have never studied the language, and even if you grew up speaking the language at home. It will determine the language level you enroll in.
Do I have to take the Math placement exam?

All Discovery Madrid ECS students are required to take the Math placement exam.

Any Discovery student who intends to take Calculus at SU  must also take the Math exam.
When do I take the placement exams?

Between June 1 and June 21, or as soon as possible.
How do I take the placement exams?

Log into MySlice with your NetID and password. In the Student Home view, click on the Advising tile.

More details about how to take placement exams are available on the Syracuse University Knowledge Base.
Academic Advising
What role will my academic advisor have as I prepare for a semester abroad?

Because the Discovery program fulfills your first-semester academic requirements, it is not required to meet with your advisor about your Discovery course selections. However, please reach out to your academic advisor if you have questions about your individual goals, major/minor selection, or college resources.
Who is my academic advisor?

Discovery Arts and Sciences programs (Florence, Madrid, Strasbourg): All students are assigned an advisor within the Academic and Career Advising Office to assist you in understanding your major and graduation requirements. You received an email from their office with your assigned advisor and can always see your advisor in Orange SUccess.

Discovery Engineering program: Maria Marceau, Manager, ECS Student Records and Study Abroad. 
Will my academic advisor help me choose classes for the Discovery program?

All Discovery program curricula are designed so that you progress at the same pace as your home-campus peers and take the same required courses.

Discovery Engineering/Computer Science students (Madrid): Your course selections are determined by your major. If you have AP or other college credit, you may be able to choose an elective. Your academic advisor, Maria Marceau, will review your selections to confirm them and will be in touch if changes are needed.

Discovery Arts and Sciences students (Florence, Madrid, Strasbourg): You will take several courses required of first-year students. In addition, you will choose from several optional (elective) courses. All courses will meet a graduation requirement. 
When will I pre-select my classes?

At the beginning of July, you will receive information on course offerings and how to submit your pre-selections on a Student Advising Form (SAF). You'll be asked to submit your SAF by July 15 and will see your schedule in MySlice in early August.  
Other Academic Questions
Who will be in my classes with me?

In some classes (like First Year Seminar or WRT 105), you'll meet exclusively with other Discovery Program students. In others, you'll learn alongside sophomores, juniors, and seniors, as would be the case on the main campus.

Most Discovery ECS students will take MAT 295 (Calculus), and many also take CHE 180.1 and CHE 180.2 (General Chemistry lecture and lab). Both of these are open to all Madrid undergraduates.
I took an AP or IB exam (or a college-credit-bearing class). Am I exempt from any required course?

You might be! But first, your home college needs to receive confirmation of your college credit, typically in July. Once the credit is entered into MySlice, your registration can be adjusted accordingly.

WRT 105: You can choose a different course in place of WRT 105 if you:
Earn an AP exam score of 4 or higher in English Language and Composition or in English Literature and Composition),
Earn an IB exam score of 5 or higher on the Higher Level Exam in English, or
Have earned other college-level credit toward the A&S Liberal Arts Core writing requirement.
MAT 295 or CHE 180.1 + 180.2: Discovery Engineering/Computer Science students may choose a course in place of one of these courses if they earn an AP exam score of 5 on the relevant exam.
My AP or IB exam results haven't arrived yet. How should I proceed?

If your scores don't arrive before our office registers Discovery students, we will register you for the required course even if you expect to be exempt. We will adjust your registration accordingly upon receipt of your qualifying score.
Can I participate on the Discovery program as an Honors student?

Absolutely! Each year Honors students can enjoy beginning their SU career on a Discovery Program. Honors advisors will reach out to you during the summer to explain how the Discovery Program works with your Honors requirements.
---
Budget
How much will the Discovery program cost?

All students are charged the same tuition as students on main campus. Each program also carries an additional program fee that covers housing, meals, program-sponsored trips, and onsite support.

Students should also expect some out-of-pocket personal expenses that are not covered by the program fee, such as airfare, passport and visa fees, and personal travel. These additional personal expenses are factored into your Discovery grant.

You can review each respective program's budget sheet on our Discovery Cost & Aid page. The budget sheets can be found under Program Requirements on the main page for each program.
What does the Discovery grant cover?

The Discovery Grant factors into account both SU Main Campus Cost of Attendance (COA) and the SU Abroad estimated Cost of Attendance (COA). The difference between the two amounts is the grant amount.

The Discovery Grant will be applied by the Financial Aid Office and distributed through the student's SU Bursar account. The application of the grant will make the overall cost of going abroad equal to SU Main Campus Cost of Attendance. Discovery Grant amounts vary depending on the location of the abroad program.
---
Passports & Visas
Do I need a passport to study abroad?

Yes, all students must have a valid passport for the entire duration of the program plus six months beyond the end date (i.e., if the program ends mid-December, your passport must not expire until after June of the following year).
What do I do if I don't have a valid passport?

If your passport is expired or expires before June of the following year, you must apply for a new passport ASAP and use the expedited service. You can follow the steps on our website here to apply for an expedited passport.

Note to U.S. citizens applying to study abroad:  Both the U.S. State Department and the U.S. Postal Service are experiencing delays in the processing/mailing of passports.  Syracuse Abroad encourages you to consider applying for an expedited passport which will cost an additional $60 but will reduce the processing time. Check the U.S. State Department website for more information. Depending on your timeframe and because mailing times can be lengthy, you may also want to have your passport application express delivered to the U.S. passport processing agency and have your new passport express delivered to your home.
What is a student visa?

A student visa is a sticker affixed in your passport that allows non-EU citizens to legally reside and study in Europe for longer than 90 days. Our International Program Advisors will work with students directly to apply for their visa over the course of the summer. A Group Visa Application may be an option depending on your Center.
Do I need a visa?

All students (apart from EU citizens traveling on a valid EU passport, as well as nationals of Norway, Iceland, Switzerland, and Liechtenstein) participating in the Discovery program must get a student visa prior to departure. Obtaining a student visa is a multi-step process, so it is important that you read through the steps carefully and follow the instructions that your International Program Advisor sends you.

We highly advise against traveling internationally between June 1 and your departure date as it can interfere with your ability to obtain a student visa. If you have international travel already booked, please contact your International Program Advisor immediately.
---
Travel
Do I have to go to the Syracuse campus before departing for my Discovery destination?

No, you fly directly from your home to your Discovery destination.  Syracuse Abroad will give you guidelines about when and where you must arrive in-country.

Discovery students may choose to participate in the optional SummerStart program (approximately from beginning of July to mid-August).  You will receive an invitation directly from the Office of Retention and Student Success at Syracuse University. If you participate in the SummerStart program, you will return home after the program and depart for your program from your local airport.

Contact Dr. Kal Srinivas (ksrini01@syr.edu) for more information or if you have questions.
Do you have group flights?

We often have group flights for the Madrid and Florence Centers departing from the New York City area (JFK International Airport or Newark International Airport). Due to French airline regulations, Strasbourg does not offer a group flight; however, Syracuse Abroad will relay all travel information in the months prior to departure for all Centers.
---
Housing
Where will I live when abroad?

All students will live with a carefully vetted homestay family with another Discovery roommate. Discovery homestays are within a short commute to the Syracuse Abroad Centers and are on a public transportation line. Before your arrival, Discovery students will complete a comprehensive Housing form to notify our onsite Housing team about living habits, dietary restrictions and allergies, and personal information to aid in your placement. All homestays provide breakfast every day and most dinners, plus Wi-fi, linens, laundry, and cleaning. Homestays are the best way to immerse yourself in the culture and learn about your new city!
How do you vet the homestay families?

Host families are vetted by our on-site Housing Coordinators who have years of experience working with both local families and study abroad students. The vetting process includes interviews with the family, onsite inspections, and an application and registration process. Many of our host families have worked with Syracuse Abroad for many years and have hosted Discovery students many times – some families have hosted students for over a decade!
How will I stay connected to main campus while I am overseas?

All freshman students are required to take the 1-credit First Year Seminar course while they are abroad.  Through this course, and with the help of your on-site Discovery Coordinator, you will stay on-schedule regarding course registration for spring classes, housing, meal plans, and other important matters. 

The First Year Seminar (FYS 101) combines discussions about adjustment to both university and a new country while connecting you with onsite and main campus resources. During FYS, upperclassmen mentors will be available to discuss life on-campus, the transition to university, and assist with registering for classes and housing.
---
Return to Main Campus
Where will I live when I return to the Syracuse campus for spring semester?

All Discovery students have guaranteed on-campus housing when they arrive in Syracuse in the spring. During your First Year Seminar course abroad, you will learn more about registering for housing, meal plans, and selecting a roommate. Students will complete their housing application around mid-October. The Housing office typically sends information regarding their housing placement in the beginning of January.
Can I pick my roommate when I return to the main campus?

Students can certainly indicate a roommate request (Discovery or non-Discovery) directly on their application, but our ability to accommodate will be based on the space we have available. If the main campus Housing office is unable to accommodate the roommate preference made, the Housing office will be in contact directly with the students to discuss an alternative.
I'm nervous about returning to campus in January. Are there any programs or activities planned to help me integrate? What kind of support can I expect?

We understand it can be nerve-wracking and we're here to help! There will be organized events during your first week on campus, including a Discovery Welcome Lunch hosted by Syracuse Abroad. We will also connect you with other Discovery students, as well as Discovery alumni (Global Ambassadors) to help you create community here in Syracuse.

Both Syracuse University and Syracuse Abroad are here to make your transition from living abroad to living in Syracuse as seamless as possible.
Will I be able to study abroad again as an upperclassman?

If it fits into your schedule and your academic goals, you may study abroad as many times as you like! We recommend you meet with your academic advisor and an International Program Advisor to discuss your long-term study abroad goals.