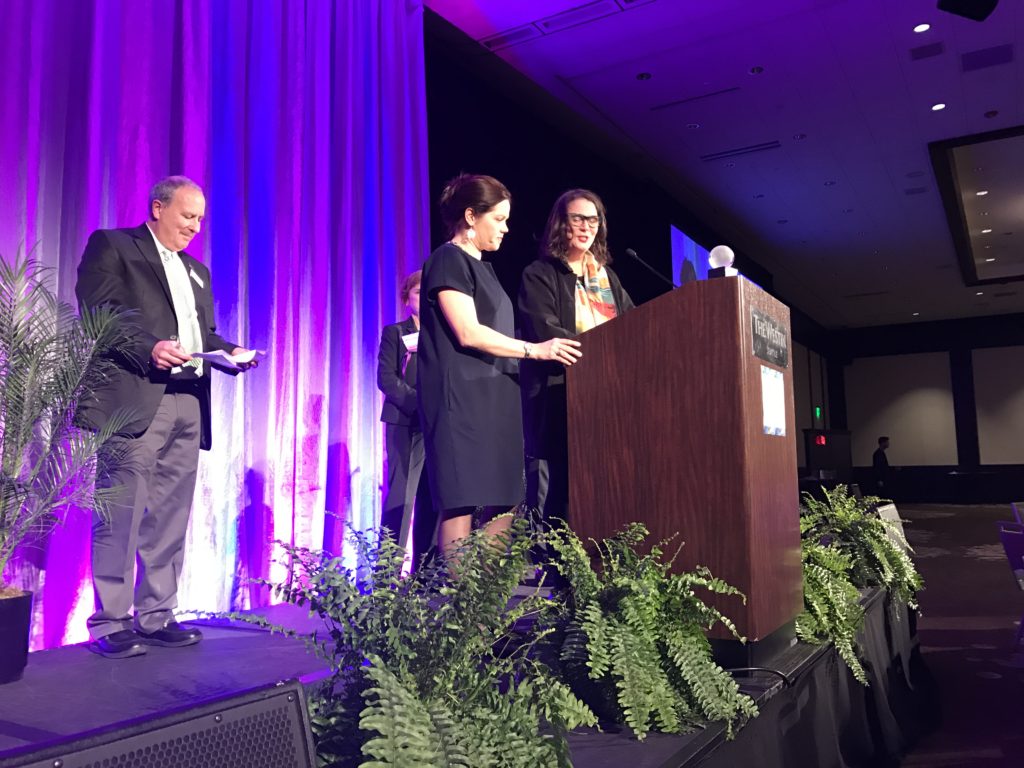 On March 31, 2017, Dr. Hana Cervinkova and Juliet Golden, director and professor, respectively, of the SU Abroad Exploring Central Europe program, were presented with an award from the Forum on Education Abroad. Cervinkova and Golden were selected as the recipients of the Forum's fourth Award for Excellence in Education Abroad Curriculum Design for the course "Negotiating Identities Across Europe's Borders."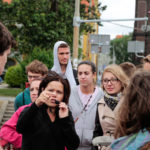 The course, the centerpiece of the theme-based Exploring Central Europe program, offers students enrolled in the program an opportunity to interact with different cultures and places on Europe's frontiers. The course travels throughout Eastern and Central Europe, to Prague, Budapest, Berlin, Bratislava, Krakow, and Vienna. At the heart of the course is the drive for students to investigate sites tied to WWII, the Holocaust, and Soviet totalitarian rule. They explore the big questions of the 21st century—how people from different national and ethnic identities, with different languages, cultures, and traditions, are able to live together after wars and other kinds of violence and trauma.
"'Exploring Central Europe' is a new model for SU Abroad," says Margaret Himley, Associate Provost for International Education and Engagement. "A thematically based program, it offers students the opportunity to study the histories, politics, and activisms of an important part of the world in collaboration with each other, with Hana and Juliet, and with a host of activists and artists they encounter over the semester."
The Fall 2017 cohort will be the fourth to enroll in the program, which runs exclusively in the fall semester. In addition to following the coursework designed by Cervinkova, students participate in internships in Wroclaw, Poland, their home for the semester, and write for the publicly-accessible Urban Labs website. There, students creatively reflect on their travels, interviews, site visits, observations, and exchanges, and share their experiences, photographs, and research with the world.
Cervinkova and Golden accepted their award at the Forum's 13th annual conference in Seattle. Additionally, the pair presented a conference session on the course. It was determined that the curriculum they developed aligned with The Forum's Standards of Good Practice for Education Abroad by:
·         Providing an academically rigorous program of study;
·         Enriching the classroom experience through the use of the location and/or its unique resources;
·         Establishing learning objectives tied to the mission statement of the home institution(s) and/or department(s);
·         Expanding and enhancing students' home institution curricula;
·         Setting a precedent for exceptional approaches to fostering student learning.
"It is wonderful to see this course recognized because it represents the best of international education," said Petra Hejnova, SU Abroad Director of Curriculum & Academic Services. "It tackles a topic of critical importance, it actively engages the study abroad location through original research, and it provides academically rigorous opportunities for students to reflect on what they are learning."
Cervinkova and Golden receive nearly unanimous praise from students who have enrolled in the Central Europe program. "I am not the same person I was prior [to the program] and I would never wish to be," said Megan Newell, who went abroad in Fall 2014, the first year the program was offered. "I have learned so much about people and culture, the land, humility, and the course of history from this program that I could never even dream of what my life would be without it."