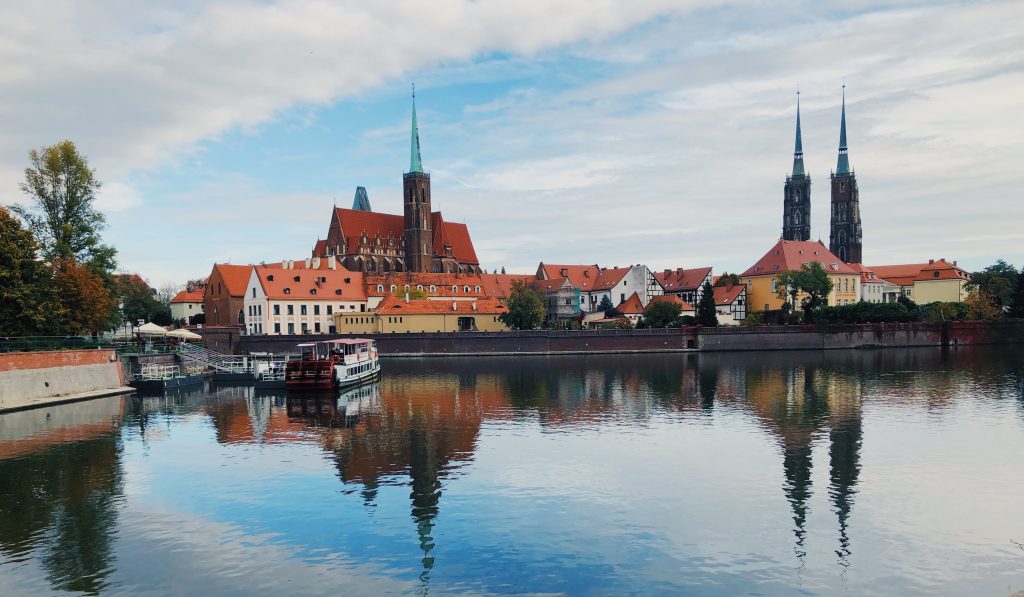 Exploring Central Europe: History, Memory, and Identity Across Borders
You'll be a part of a learning community that is based in the heart of Central Europe and that travels to Prague, Berlin, Lviv, Krakow, Warsaw, Treblinka/Sejny, and Gdansk. You'll investigate sites tied to WWII, the Holocaust, and Soviet totalitarian rule. Explore the big questions of the 21st century—how people from different national and ethnic identities, with different languages, cultures, and traditions, are able to live together after wars and other kinds of violence and trauma. Learn about the complexity of issues related to history and social justice in comparative ways. All courses are taught in English. You'll join a close cohort of students, learn from dynamic faculty, and design your own individual research project. You'll have the opportunity to pursue exciting internship opportunities at institutions working in the areas of civic engagement, human rights, culture, politics, and the environment.
This program is the The Forum's 2016 recipient for the Excellence in Education Abroad Curriculum Design award!
View selected courses for the Central Europe program
---
Apply now for fall 2022
NOTE: The Syracuse Central Europe program has a "rolling admissions" policy, which means applications are reviewed as they are completed, prior to the deadline.  To ensure full consideration, students are strongly encouraged to apply as soon as possible due to limited space.  Students will be placed on a waitlist once the program has reached maximum enrollment.  Date of application does not guarantee acceptance.
(Fall only) Through comparative study in six countries and their urban centers, you will explore some of the most rapidly changing regions in Europe. Your home base will be Wroclaw, the European Capital of Culture in 2016. In Berlin, you'll study Germany's attempts to forge a new path of leadership while confronting its Nazi and politically divided past. In Budapest, you will investigate how one of the most beautiful cities in the world is confronting the refugee crisis. In Prague, you will consider how the Czech Republic has taken paths to European integration. Your stay in Krakow will offer very different perspectives on the continent's imperial past and its present-day open borders. Deadline: March 15; GPA – 2.5
---
Talk to recent Central Europe students!
The best way to understand what to expect in Central Europe is to talk to someone who has already participated in the program. Our Central Europe global ambassadors formed close friendships, traveled all over Europe, and used their classes in Wroclaw to launch their careers – ask them about Exploring Central Europe!
"The most valuable experience I had in Poland was interning at the Wroclawski Teatr Pantomimy im. Henryka Tomaszewskiego (Wroclaw Pantomime Theatre).  My internship was such a rewarding experience because I grew with each new challenge I tackled. The theatre provided me with opportunities I will cherish for a lifetime and the invitation to return to Poland and work there after graduation."

-April Dvorak '21

Exploring Central Europe, Fall 2019
---
Central Europe Brochure
An overview of the Central Europe program is available in our viewbook. Request a copy of your own by filling out this form to have one mailed to you! Find the most up-to-date information on course offerings here.