In Madrid, students can choose between two options for housing: a homestay with a Spanish family or placement in a residence hall with a roommate from the Syracuse Madrid program.
El Faro Residence Hall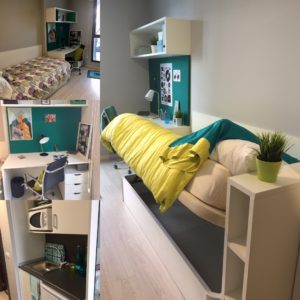 Syracuse University Abroad offers a residence hall housing option for students participating in the Syracuse Madrid program. Syracuse Madrid will reserve a block of rooms with two occupants per room. You will be assigned to rooms based on information provided on the Housing Request form (among the post-acceptance forms in your application). Space in the residence hall will be reserved on a first-come, first-served basis, based on the date you commit to the program and submit your Conditions of Participation form. If you are not placed in the residence hall, you will be placed with a host family.
The residence hall, Colegio Mayor El Faro, is situated in the Moncloa neighborhood of downtown Madrid and is a 25-minute walk to the Syracuse Madrid Center. The rooms are furnished, including a small kitchen with a sink, mini-fridge, and microwave. Bed linens and bath towels are provided and laundered weekly by the cleaning staff. Three meals a day in the El Faro cafeteria are included in this option.
In the residence hall, you'll live with Spanish and other international students. This will give you the chance to immerse culturally and practice your Spanish language skills with your international peers.
All students who are placed in the residence hall will need to pay a $300 deposit and sign a housing agreement form to confirm their placement in El Faro.
The Host Family Experience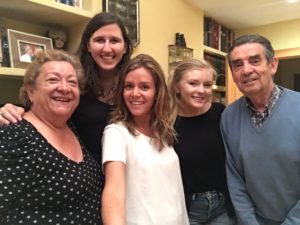 In the homestay, you'll learn customs that are different from your own, and you'll experience new emotions as you are integrated into the daily life of a Spanish household. Spanish families are usually affable and hospitable, and their objective is to create a welcoming environment where you can feel at home during your stay.
The experience of each student is unique, as there is no such thing as a typical family. You may live with a family with children, a married couple, or a single person who may be an older widow or a single businessman or woman.
Students generally feel that the homestay is one of the most enriching parts of their study abroad experience. With the help of locals, students make a much smoother transition when trying to adapt to a new environment. If you come to Madrid with an open mind and a willingness to learn a new culture, you'll have an enjoyable and unforgettable experience.