Summer Program Grants & Scholarships
Syracuse University is committed to making the Syracuse Abroad experience possible for all students. In partnership with ESE and Invest Syracuse, Syracuse Abroad is pleased to provide a variety of assistance options available to students participating in summer 2021 programs, including scholarships and grants listed below.
Summer Grants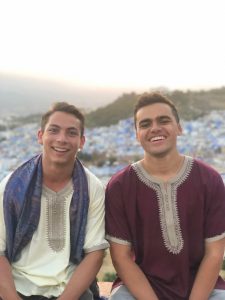 Funding is available for Summer Center programs! Summer grants will be allocated to Syracuse University undergraduate students in medium, high and high plus need categories applying to summer 2021 programs at Syracuse Abroad centers in Florence, London, Madrid and Strasbourg. In combination with need-based financial aid for summer programs available to all students who qualify, undergraduates with the highest need applying to study in one of these locations this summer could receive up to $9,000 in grants.
Summer programs application deadline: February 10, 2021
---
Summer Merit-Scholarships
Syracuse Abroad is excited to announce the return of our merit-based scholarship for summer 2021 study abroad programs. Syracuse University undergraduate students with high academic achievement have the opportunity to apply for a limited number of $1,000 merit-based scholarships to participate in our exciting, academically challenging, and innovative summer programs abroad.
Eligibility:
Undergraduate matriculated Syracuse University student
GPA of 3.4 or higher (no exceptions)
Must have a completed summer application at the time of submission
How to Apply:
Students will find the scholarship application within their OrangeAbroad Portal after starting an application for a summer 2021 Program.
Application:
Personal essay (up to 500 words) OR
Creative personal statement video (up to 3 minutes)
*Selection Committee will review all applicants after the deadline of January 30 (no rolling admissions review)
Scholarship application deadline: January 30, 2021
---
Need-based financial aid
The Office of Financial Aid awards Study Abroad Grants (SAG), based on financial need, that range from $250-$2,000 for 3 credits and $500-$4,000 for 6 credits. Need is determined by the previous academic year's FAFSA information.
---
Why choose a Summer program?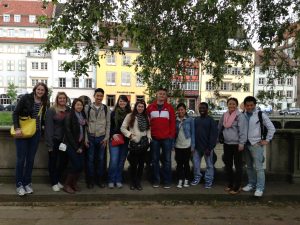 Summer programs are a great way to study abroad without missing a beat on campus. These programs allow you to stay on track academically, boost your resume and gain culturally immersive and hands-on experience in a global context. Next summer, spend 4-5 weeks at one of our Centers, join a faculty-led program for intensive field-study or embark on an internship abroad. During your time, your will immerse yourself in a new culture, earn credit and develop your global identity.
View all summer 2021 programs:
For questions about summer programs, email Summer International Program Advisors Stephanie Ramin or Myles Chalue.
Applications for summer programs are reviewed on a rolling basis and must be submitted by February 10, 2020.