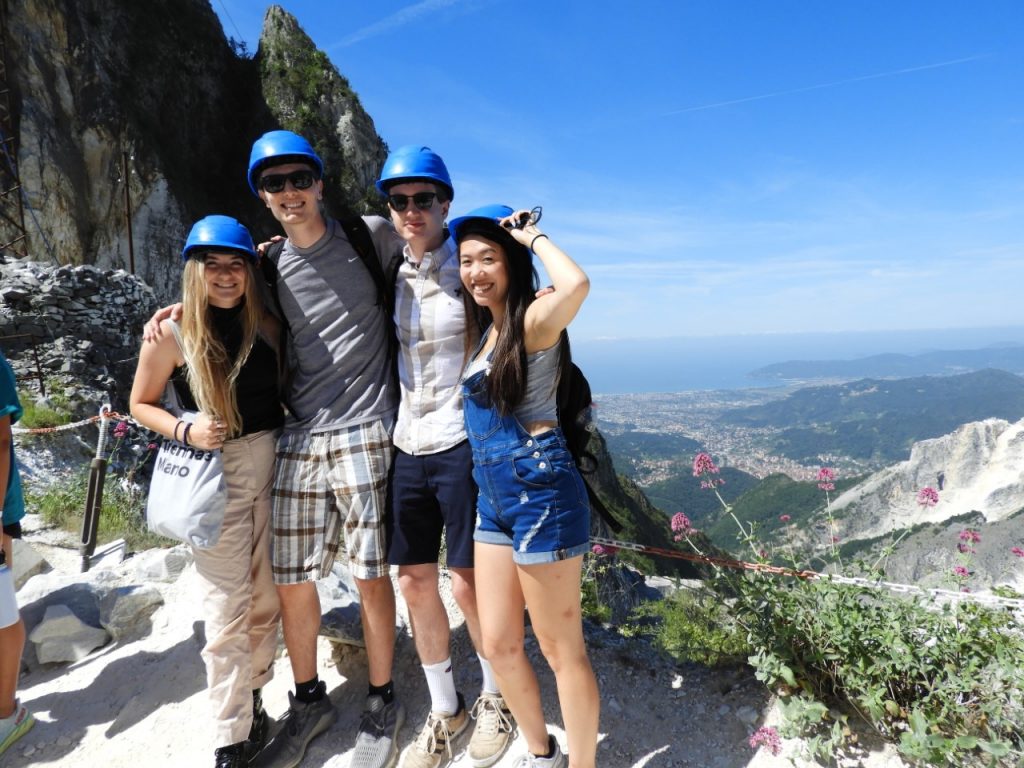 2023 Summer Programs in Europe
---
Belgium
The European and Global Internship Program in Brussels
Gain an understanding of Public Administration and International Affairs, Strategic Communications, Public Diplomacy, and Media in a European and international context in the heart of the European Union. Students will pursue a seven-week internship within intergovernmental institutions such as the European Parliament or the Council of Europe, international NGOs, media organizations, lobbies or think tanks in Brussels. In addition, you will participate in weekly seminars with guest lectures by high level European and international officials. (3 or 6 credits; COM 470, IRP 370/670 (IR students only), IPA 470, PAI 670, or PRL 530/635)
---
England
Add an international dimension to your legal experience through an internship clerking with a barrister, solicitor, corporation, government agency, nongovernmental organization, or the Crown Prosecution Service. Through coursework and clerkships, you'll learn about the English legal system through a new dimension of legal education—the comparative law experience. (4 credits; LAW 910)
Students will spend two weeks in London gaining exposure to various aspects of trial advocacy in a global setting. Foundational discussions and simulations on oral arguments, opening and closing statements, witness preparation and cross examination, will give way to a final trial. Students will gain a diversity of perspectives and advice from London's barristers and solicitors representing a wide cross-section of criminal and civil practice areas.
Customize your summer program in London by choosing from an array of courses. To take full advantage of the city, most of your courses will feature field trips and excursions. (3-6 credits)
Mix and match your summer abroad and complete an internship in London! Get some professional experience in a major international city with our 5 or 8-week summer internship program. Summer internships are available in a variety of fields, including business, communications, education, music, and technology. (3 credits; BUA 400)
London Summer Internships (Virtual)
Gain professional experience interning with a London-based company or organization through a virtual internship. This is a great opportunity to gain intercultural work experience while having the flexibility of working remotely. As with our in-person internships, there are placements available in a variety of fields. (3 credits; BUA 400)
---
France
Students in all major areas of engineering have an opportunity to conduct research projects at the Institut National des Sciences Appliquées (INSA). No prior language knowledge is required, although a basic knowledge of French is desirable. (3 credits; ECS/MAE 490/690)
This course is designed for students interested in International Relations and France. Students will combine French language instruction in the classroom and participation in numerous site visits in Strasbourg during this 5-week summer course. This course can be combined with the Religion, Law, and Human Rights in Strasbourg program or the Summer Internships in Strasbourg program. Pre-requisite: FRE 202 (3 credits; FRE 300)
Focusing on both European and non-European jurisdictions, this course (taught at the Syracuse Strasbourg Center) will introduce you to contemporary debates about the role of religion in public and political life, and familiarize you with critical human and women's rights issues. You will also discuss contemporary multicultural and pluri-legal challenges to universal human rights values and principles. This course can be combined with the Summer Internships in Strasbourg program or the French for Diplomacy program. (3 credits; IRP/MES/PSC 400.1/600.1)
An ideal gateway to the fascinating political landscape of the new Europe, Strasbourg is home to the Council of Europe, the European Court of Human Rights, and the Parliament of the European Union. You'll discover the historical and cultural layers of old Europe in this welcoming and walkable city by taking on an internship with a local business in Strasbourg. Expand your working knowledge of the French language, acquire international work experience, and learn first-hand about French cultural norms through this immersive internship experience. (3 credits; FRE/IPA/PSC 470/670)
---
Italy
The Florence Summer Session allows you to customize your program according to your interests and desire for exploration. To enhance your learning experience, most courses feature field trips and excursions within Florence and to locations outside the city. Internships are also available. (3-7 credits)
Italian Film Studies and Filmmaking in Bologna
Attend the world's most famous classic film festival, Cinema Ritrovato, while immersing yourself in all aspects of film. This program is based on a total filmmaker/film studies approach in which you'll study Italian film history, visual strategy, pre-production planning, and production. You'll generate ideas based on the study of Italian filmmakers such as Rossellini, Zampa, Fellini, Bertolucci, and Antonioni, and incorporate what you learn into your own worldview and film-making interests. (6 credits; FIL 400/600 and FLL 500)
Medieval Sicily: Transformations at a Cultural Crossroad
The city of Siracusa (the original Syracuse!) will be the lens through which you will examine the historical, cultural, and religious developments of the ancient and medieval periods on Sicily. Siracusa possesses a wealth of monuments that vividly demonstrates artistic and religious exchanges between the eastern and western Mediterranean, Europe and Africa, and among the various faiths of that world, Christianity, Judaism and Islam. ( 3 credits, HOA 300)
Every two years, La Biennale di Venezia gathers the world's leading architects, intellectuals, planners, environmentalists, academics, theorists, historians, and journalists to discuss the most pressing issues in global design culture. Curated by Ghanian-Irish architect Lesley Lokko, the 18th Architecture Biennale in 2023—The Laboratory of the Future—aims to offer a cross section through the instabilities of the present world as well as imaginative, collective strategies for negotiating, working in, and transforming it.
This summer course is centered on the issues raised by the 2023 Venice Biennale theme. Students will spend two weeks in Venice studying the exhibition in detail. Students will have a chance to interact with architects, scholars, and activists from around the world through formal and informal events, including conversations and workshops organized by the instructor. After a week of documentation, discussion, and debate, students will charette during the second week on a speculative design manifesto that builds on and critiques proposals by designers exhibiting in Venice.(3 credits, ARC 500)
---
Multi-Country
Your odyssey begins in London, where you'll examine the impact of the 2012 Summer Games. From there you'll visit Paris, the birthplace of the modern Olympic movement, and Lausanne, the present-day "Olympic Capital" that has been home to the International Olympic Committee since 1945. You'll end in the ancient city of Athens, host of the first modern Olympics and the 2004 Summer Games. Along the way you'll meet with Olympic development committees to understand international sports from a strategic sport management perspective.
(3 credits; SPM 357/600)
---
Spain
Create your own program by choosing from an array of courses in a variety of subject areas, including Spanish, LGBT Studies, and Psychology. Travel around Spain, visit Madrid's art museums, and attend the theater and concerts. Or, experience the Spanish workplace by doing an internship with a local business. (3-6 credits)
---
Switzerland
Managing Global Brands of Sport: An International Public Relations Study
The course explores the intersection of sports and society, through the application of public relations, in understanding how public perceptions are shaped and managed. This course allows the student to apply teachings through first-hand experiences within the public relations and sports industry. (3 credits, PRL 530)