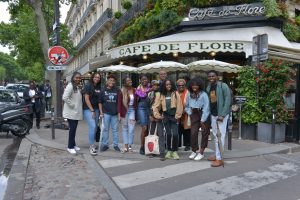 2021 Summer Programs in Europe
Due to ongoing Covid-19 restrictions, a select number of summer 2021 programs have been suspended for the upcoming term. If you have specific program questions, please reach out to a Summer Program Advisor.
Belgium
Gain an understanding of Public Administration and International Affairs, strategic communications, public diplomacy, and media in a European and international context in the heart of the European Union. Public diplomacy, Public Administration and International Affairs, International Relations and journalism and public relations students will pursue a seven-week internship within intergovernmental institutions such as the European Parliament or the Council of Europe, international NGOs, media organizations, lobbies or think tanks in Brussels. In addition, you will participate in weekly seminars with guest lectures by high level European and international officials. (3 or 6 credits; COM 470/IRP 370/670/PAI 670/PRL 530/635)
---
England
Customize your summer program in London by choosing from an array of courses. To take full advantage of the city, most of your courses will feature field trips and excursions. (3-6 credits)
Get some professional experience in a major international city with our 7 week summer internship program in London! Summer internships are available in a variety of fields, including business, communications, education, music, and technology. (3 credits)
Virtual summer internships with British businesses are available in a variety of fields, including architecture, business, communications, design, drama, education, entertainment management, government and policy, human rights work, and technology. Students can choose to work for 10, 20, or 35 hours per week, for 4 or 8 weeks. Depending on how many hours spent in the virtual placement, students can earn 1, 2, or 3 credits.
---
France
Students in all major areas of engineering have an opportunity to conduct research projects at the Institut National des Sciences Appliquées (INSA). No prior language knowledge is required, although a basic knowledge of French is desirable. (3 credits; ECS/MAE 490/690)
This course is designed for students interested in international relations and France. Students will combine French language instruction in the classroom and participation in numerous site visits in Strasbourg during this five-week summer course. This course can be combined with Religion, Law, and Human Rights in Strasbourg. There will also be guided excursions to places like Alsace, the Struthof Camp, and the Black Forest, arranged by SU Abroad for all SU Abroad summer programs in Strasbourg. The cost of these trips is included in the program fee. Pre-requisite: FRE 202 (3 credits; FRE 300)
Focusing on both European and non-European jurisdictions, this course (taught at the Syracuse Strasbourg Center) will introduce you to contemporary debates about the role of religion in public and political life, and familiarize you with critical human and women's rights issues. You will also discuss contemporary multicultural and pluri-legal challenges to universal human rights values and principles. This course can be combined with a summer internship in Strasbourg. (3 credits; IRP/MES/PSC 400.1/600.1)
An ideal gateway to the fascinating political landscape of the new Europe, Strasbourg, France, is home to the Council of Europe, the European Court of Human Rights, and the Parliament of the European Union. You'll discover the historical and cultural layers of old Europe in this welcoming and walkable city. (BUA/FRE/IPA/PSC 470/670)
---
Italy
The Florence Summer Session allows you to customize your program according to your interests and desire for exploration. To enhance your learning experience, most courses feature field trips and excursions within Florence and to locations outside the city. Internships are also available. (3-6 credits)
Every two years, the Venice Architecture Biennale gathers the world's leading architects, intellectuals, planners, environmentalists, academics, theorists, historians and journalists to discuss the most pressing issues in global design culture. The 2020 Biennale is titled "How Shall We Live Together?" and seeks to explore the problems of social connectedness and political discord in the world today. This course is based on the issues raised in the 2020 Venice Biennale theme and students will spend two weeks in Venice studying the exhibition in detail.
---
Spain
Create your own program by choosing from an array of courses, including Spanish, LGBT studies, and psychology. Travel around Spain, visit Madrid's art museums, and attend the theater and concerts. Or experience the Spanish workplace by doing an internship with a local business. (3-6 credits)
---
Switzerland
In this four-week program, graduate students will gain insight of international organisations, global governance, human rights and humanitarian action, peace and security, environment, and sustainable development issues. (PAI 680, 1-5 Credits, Graduate)