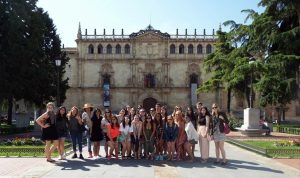 2024 Summer Sessions at our Centers
Experience what it is like to study at a Syracuse Center location in a condensed amount of time by spending anywhere from 2 to 8 weeks during the summer at one of our Centers in Florence, London or Madrid. During our summer sessions, you can choose from a variety of courses and enroll in one or two classes to earn 3 to 9 credits. Depending on the location, you will live with a host family, in a residence hall or within shared apartments. During your experience abroad, you will be able to immerse yourself in the city's culture by participating in exciting Center activities, including weekend trips and city exploration opportunities. There are also several summer courses offered at our Center in Strasbourg!
Financial aid is available – learn more about summer aid!
Explore Summer programs at our Centers:
---
Florence & London Summer Sessions
Spend your summer at one of our Centers in Florence or London, or split your time between both! This flexible study option gives you the ability to choose how you want to spend your summer – choose the length, location and courses that best fit your academic needs, interests and schedule!
Traveling Seminar: May 11-20
Block 1: May 20-June 8
Block 2: June 10-29
Mix & Match: Florence Summer Session
Program length: 3 or 6 weeks; 1 or 2 courses (3 to 6 credits) or an internship (3 credits)
Study art, Italian language & culture, food studies, and more
Live in a residence hall within a reasonable distance to the Villa Rossa
Center activities may include city tours, food tastings and day trips to neighboring cities such as Lucca or Pisa
Mix & Match: London Summer Session
Program length: 9 day seminar or 3 or 6 weeks; 1, 2 or 3 courses (3, 6 or 9 credits)
Study London culture, history, sustainability and more. Internships are available too!
Live in shared flats throughout London within a 30 minute commute to the Faraday House
Center activities may include city visits and regional weekend trips to destinations such as Cardiff or Lake District and Scotland
---
Madrid Summer Session
Madrid Summer Session: May 16-June 21
5 weeks, 1 or 2 courses or an internship (3 to 6 credits)
Courses include: Drugs & Human Behavior PSY 315, Sexuality in Spain SOC/QSX/WGS 306/600, Mediterranean Environment and Ecosystems BIO 300, The Business of Sports BUA 300.2, and more
Live with a welcoming host family or an international cohort of students in local residence halls
Take a center-led field trip to Andalusia (included in your program fee)
Center activities may include hiking excursions, flamenco class, cooking class, tapas crawl, neighborhood and city tours, museum visits
View 2022 Madrid Farewell video
---
Summer in Strasbourg, France
During your time in Strasbourg, you'll live with a French host family for an immersive cultural experience. You can choose 1 or 2 of the following courses to take at Syracuse Strasbourg Center.
May 15-June 21
This course is designed for students interested in International Relations and France. Students will combine French language instruction in the classroom and participation in numerous site visits in Strasbourg during this 5-week summer course. This course can be combined with the Religion, Law, and Human Rights in Strasbourg program or the Summer Internships in Strasbourg program. Pre-requisite: FRE 202 (3 credits; FRE 300)
Focusing on both European and non-European jurisdictions, this course (taught at the Syracuse Strasbourg Center) will introduce you to contemporary debates about the role of religion in public and political life, and familiarize you with critical human and women's rights issues. You will also discuss contemporary multicultural and pluri-legal challenges to universal human rights values and principles. This course can be combined with the Summer Internships in Strasbourg program or the French for Diplomacy program. (3 credits; IRP/MES/PSC 400.1/600.1)
May 15-June 28
Students in all major areas of engineering have an opportunity to conduct research projects at the Institut National des Sciences Appliquées (INSA). No prior language knowledge is required, although a basic knowledge of French is desirable. (3 credits; ECS/MAE 490/690)
An ideal gateway to the fascinating political landscape of the new Europe, Strasbourg is home to the Council of Europe, the European Court of Human Rights, and the Parliament of the European Union. You'll discover the historical and cultural layers of old Europe in this welcoming and walkable city by taking on an internship with a local business in Strasbourg.  Expand your working knowledge of the French language, acquire international work experience, and learn first-hand about French cultural norms through this immersive internship experience. (3 credits; FRE/IPA/PSC 470/670)
Intern at the Council of Europe in Strasbourg, France – an experience unique to Syracuse University students! Applications required; placements are recommended for graduate and advanced undergraduate students interested in human rights, governance, diplomacy, and international relations. (3 credits; FRE/IPA/PSC 470/670)
---
Hear from our Global Ambassadors
"During my time in Madrid, my roommate and I developed a strong relationship with our host family. Through our dinner conversations every night, we learned about the history of Spain, current political topics and a lot about the values held by Spaniards.  One of my proudest moments abroad was near the end of my time in Madrid when my host mom complimented the progress my roommate and I had made on our speaking abilities. It showed us that our dedication to learning the language was paying off."

-Charlie Naples '21

Madrid Summer Session, summer 2019
View all Summer Global Ambassadors