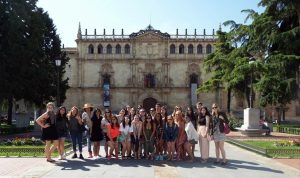 Summer sessions at our Centers
Experience what it is like to study at a Syracuse Center location in a condensed amount of time by spending 4 to 6 weeks during the summer at one of our Centers in Florence, London or Madrid. During our summer sessions, you can choose from a variety of courses and enroll in one or two classes to earn 3 to 7 credits. Depending on the location, you will live with a host family, in a residence hall or within shared apartments. During your experience abroad, you will be able to immerse yourself in the city's culture by participating in exciting center activities, including weekend trips and city exploration opportunities.
Internships are available as part of Florence and Madrid sessions to enhance your learning experience by collaborating with local businesses. Students who wish to intern in London should complete an application for the London Summer Internship program. This program allows you to take part in the same fun and engaging center activities, but requires you to stay three weeks longer than the London Summer Session program.
6 weeks, 1 or 2 courses (3 to 6 credits) and internships for 1, 2, or 3 credits
Courses include: Italian Renaissance Art HOA 32, The Italian Mafia HST/SOC 300, Mediterranean Food and Culture: An Italian Experience HST 300/NSD 452/652 and more
You will live with a host family within a 30 minute commute to Villa Rossa
Center activities include Savor Florence, Olive Oil in Impruneta, and day trips to Pisa/Lucca, Siena/San Gimignano and Assisi and Perugia
4 weeks, 1 or 2 courses (3 to 6 credits)
Courses include: British Masculinity on Screen: James Bond & Sherlock Holmes FIL300/QSX/WGS 400, Inside the London Theater ETS/DRA 400, Underground London HST400, Sport in the United Kingdom SPM300 and more
You will live in shared flat throughout London within a 30 minute commute to the Faraday House
Center activities include city visits and regional weekend trip including Cardiff or Lake District and Scotland
Interested in an internship? Check out the London Summer Internship program!
5 weeks, 1 or 2 courses (3 to 6 credits) or a 3 credit internship
Courses include: Cross-Cultural Psychology PSY 400, Sexuality in Spain SOC/QSX/WGS 306/600, Mediterranean Environment and Ecosystems BIO 300, The Business of Sports BUA 300.2 and more
You will have the option of living with a host family or in a residence hall
Center activities include weekend trips to Andalusia, hiking trips and city exploration opportunities
---
Hear from our Global Ambassadors
"During my time in Madrid, my roommate and I developed a really strong relationship with our host family. Through our dinner conversations every night, we learned about the history of Spain, current political topics and a lot about the values held by Spaniards.  One of my proudest moments abroad was near the end of my time in Madrid when my host mom complimented the progress my roommate and I had made on our speaking abilities. It showed us that our dedication to learning the language was paying off."

-Charlie Naples '21

Madrid Summer Session, summer 2019