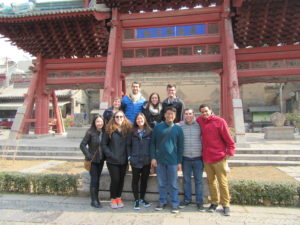 Cultural perceptions of race and ethnicity vary significantly around the world. Racial and ethnic identities abroad are important topics to research when deciding where to travel and study abroad. Syracuse Abroad encourages you to learn about the cultural differences, including norms, stereotypes and colloquialisms, in your host country, city and every subsequent place you choose to explore.
Before you depart, you may want to consider these questions:
What are some common perceptions and stereotypes about my race or ethnicity in my host country?
How might I be perceived in my host community because of my ethnic, racial, or national markers?
Is there a history of racial or ethnic tension in my host country? Is the issue of immigration a source of racial or ethnic tension currently?
How should I react if I encounter racism or other discriminatory behavior? Is the person curious or do they have bad intentions?
How might my personal racial or ethnic identity shape my experience abroad?
Will I experience discrimination in the country I study in? Who can I talk to about it if I do?
I will be studying away in search of heritage, culture, or diaspora communities. Can I contact other students who may have done this before – reach out to Global Ambassadors to learn about their experiences.
If I am living with a host family, am I open to learning about their cultures and customs, even if they are different from my own?
Will I be a part of a minority abroad, even if I am part of the majority at home or on-campus? How will this impact my experience?
What is the relationship between my host country and the United States?
What does it mean to be perceived as an American in a foreign country?
How can I explain to my family that a study abroad experience can contribute to the achievement of my academic and career goals?
Use these resources to get started:
Students of Color Abroad: View questions, tips and recommendations about how to prepare for your study abroad experience.
Office of Multicultural Affairs: A cultural center focused on supporting and promoting the academic achievement, multicultural competence, social development, civic engagement, and retention of students from historically underrepresented racial and ethnic communities at Syracuse University.
Center for International Services: Syracuse University resource for international students, scholars and their dependents on issues related to immigration status, employment, cultural, social and academic concerns which impact your success at SU.
AllAbroad: The number of Native American students studying abroad is increasing each year. Learning more about other cultures will help shed a new light on your own and will help you to understand how your culture connects with the entire world.
---
Student Stories
"People can't always tell different ethnicities apart, this occurs in Spain as well. My number one tip for this is not to get offended quickly, but to be patient with people and if you have time and want to, you can share your background to politely correct them."

– Michelle Truong '21
Learn more about Michelle's journey: Adjusting to life in Madrid
---
"You may wonder as an international student, why I chose to study abroad even though I am already studying abroad in the US? My answer would be experiencing with the world beyond one's borders is the best way of learning."

– Yangzhi Xiao '22
Read more about Yangzhi's time in Strasbourg: A Chanson of the Secret Garden
---
"I was one of three Black people in Italy out of the 350 students that were there and it was… kind of daunting. I want to let [Black students] know their options. Studying abroad isn't just for white students."

-Bailey Davis '23
Learn more about Bailey's experience in Florence: Eyes on 'Cuse: Bailey Davis
---
Recommended scholarships
---
For more information about your host country or countries of interest, contact your International Program Advisor. To learn more from your peers, we encourage you to reach out to Global Ambassadors. These are alum from various programs and locations that are willing to discuss their experiences with you and answer your questions!