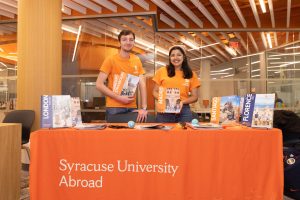 Global Ambassadors are Syracuse Abroad alumni who have a deep appreciation for their cross-cultural experiences and who would like to encourage others to go abroad. Your anecdotes, advice, and experiences are our best resource for prospective students. If you have exhausted your friends and families with study abroad stories and think that there's no one else out there who wants to hear them, think again!
No matter how much information we try to provide students, what they really need is to hear what you have to say! If you are interested in becoming a Syracuse Abroad Global Ambassador, please email suabroad@syr.edu.
If you're selected to be a global ambassador, you'll be required to attend a training session with Syracuse Abroad staff, who will help you get comfortable with answering common questions and introducing you to your new responsibilities. Note that in order to remain a global ambassador, you must remain in good academic and judicial standing with your university.
The global ambassador application will be open three times a year for spring, summer and fall cohorts:
Cycle 1: April 15 -May 15
Cycle 2: July 15-August 15
Cycle 3: December 15-January 15
---
What do Global Ambassadors do?
Some of the responsibilities of Global Ambassadors may include:
Peer Advising
Many students planning to study abroad want to speak with students like yourself who have actually had the experience of going through the process and have lived and studied in a different country. Global Ambassadors respond to emails and provide information and recommendations where sought. Global Ambassadors will also sign up for peer-advising shifts at our location in Bird Library, SyracuseAbroad@Bird, to help guide students when making decisions about studying abroad.
Pre-Departure Meetings
Each semester, Syracuse Abroad will hold pre-departure meetings in various cities as well as on campus in Syracuse for accepted students and their parents. You'll meet with the admissions counselor in charge of the meeting beforehand to discuss topics and talking points. Your perspective and input as an alum is extremely helpful; students and parents alike will want to know about your Syracuse Abroad experience. These meetings are a great venue for Global Ambassadors to share their personal, academic, and cultural trials and triumphs while abroad.
Participation in on-campus activities
Throughout the academic year, Syracuse Abroad hosts events across campus for prospective students. These might include classroom presentations, information sessions, or the Study Abroad Day open house. Global ambassadors attend alongside Syracuse Abroad staff members to talk about their experience abroad, show pictures, and answer questions from interested students and their parents.
Center-specific events: Our office will host events just for students interested in Madrid, or Strasbourg, etc. Having global ambassadors from that center there to talk to prospective students is always a big help to our recruiting efforts.
First-year forums: Global ambassadors are invited to present to classrooms of freshmen in the College of Arts & Sciences. Syracuse Abroad staff will provide you with training and a PowerPoint template, you'll add in your own photos and experiences before giving a 5-10 minute presentation to a Freshman Forum.
Host your own events: If you belong to a fraternity or sorority, a student group, a club sport – give your own study abroad presentation! Syracuse Abroad can provide materials, logistics for reserving a room, and some money for food!
Exclusive Conference Opportunities
Syracuse Abroad can pay for you to travel to and attend a national study abroad conference! If you're interested in pursuing some kind of international career and networking with other members of the international education community, you may want to apply to attend a study abroad conference. This is an experience only available to global ambassadors.
Visiting students
As a Syracuse Abroad Global Ambassador on your home campus, you are a key figure in promoting Syracuse Abroad and piquing your peers' interest. In your role, you will create study abroad awareness and act as a resource for prospective study abroad students interested in Syracuse Abroad programs. You will inspire others to embark on their own study abroad journey while building your network and professional skills.