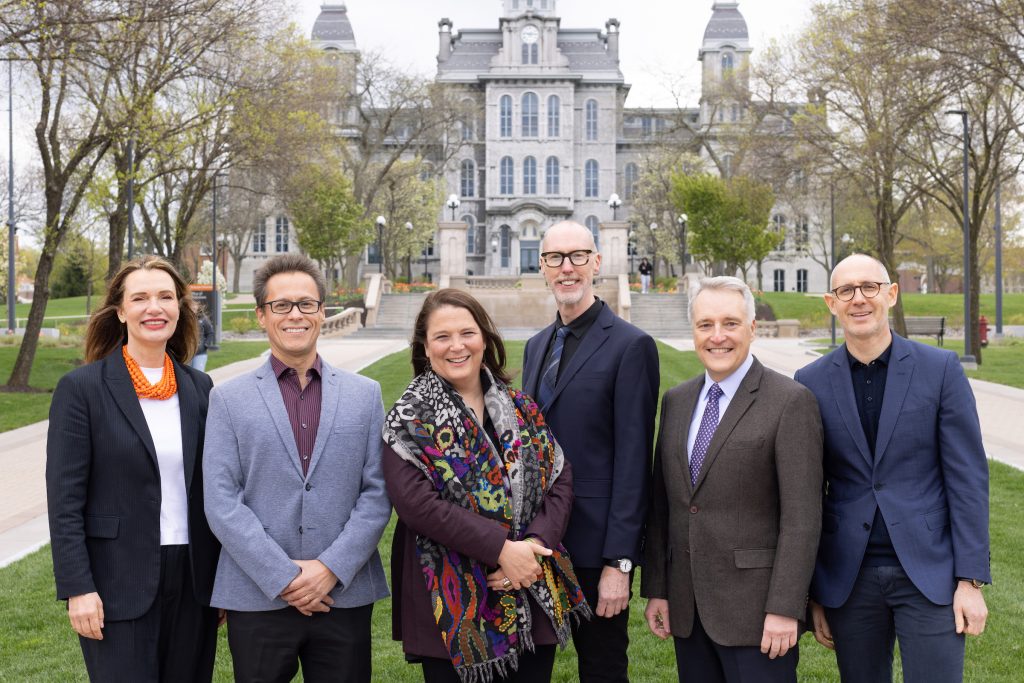 Each Syracuse Abroad Center is managed by a director, along with multicultural staff, who delivers unparalleled academic programs and support services to students studying abroad. Our program directors, who oversee operations at the centers and often teach a number of courses, are experts in their fields and have extensive experience in the countries where they live, work and teach. Our directors and staff abroad are dedicated to empowering students to reach their full potential abroad, both academically and personally.
---
Sasha Perugini, Ph.D
A native of Tuscany with Serbian background, Professor Perugini is fluent in Italian, Serbian and English. She earned her Laurea Magistrale (MA comparable) in English and Russian at the University of Siena and her doctorate from Tufts University. She has been the Director of Syracuse Florence since 2011 and acts as the program's legal representative. She teaches cross-cultural management and communication. Perugini has published six books and many scholarly articles on topics ranging from language to food to AI and bias. She is involved in advocacy for women in leadership, and regularly leads dedicated seminars on the subject.
---
Troy Gordon, Ph.D.
Professor Gordon has a Ph.D. in English language and literature and women's studies from the University of Michigan. In addition to editing his great-grandfather's memoirs about growing up in 19th-century Liverpool, he researches and presents on: the study of unconventional male/female friendships in the modernist period in England, the visual and written representation of mass atrocities and conflict, and the changing nature of work and organizational life in the 21st century. Dr. Gordon has been the director of Syracuse London since 2014.
---
Dieter Roberto Kuehl, Ph.D.
Professor Kuehl was born and raised in Guatemala. With an undergraduate education in business administration, he worked for an American shipping company for over 10 years before earning an M.A. and a Ph.D. in Spanish literature from Harvard. While working on his dissertation, Kuehl came to Madrid to conduct research, and he fell in love with the country. He started teaching at Syracuse Madrid in 2001 and has been the director since 2012.
---
Mauricio Paredes, Ph.D.
Professor Paredes opened the Syracuse Santiago program in 2008. He teaches the traveling seminar and a course on dictatorships, human rights and historical memory. He earned a Ph.D. in history from the University of Chile and is a scholar on Chilean internment camps for Japanese during World War II. His research also includes nationalism and U.S. involvement in Chilean politics.
---
John Goodman, Ph.D.
Dr. Goodman joins Syracuse University Strasbourg with an extensive background in law, diplomacy and conflict resolution, education, and leading international organizations, having served as a lawyer, an international relations scholar, a delegate in South Sudan for the Red Cross, and an advisor to former United States President and Nobel Laureate, Jimmy Carter. He is particularly passionate about his work with youth in addressing armed conflict, peace processes and democratic transitions, and has received accolades for his mentorship and educational work with students as interns.
---
Juliet Golden, Ph.D.
With a master's in international affairs and a Ph.D. in international education, Professor Juliet Golden has designed and taught innovative courses about Central Europe for more than 10 years. Her deep interest in the history of Central Europe developed through research and her journalistic work in the region. She has curated a number of exhibits and has directed a full-length documentary film.