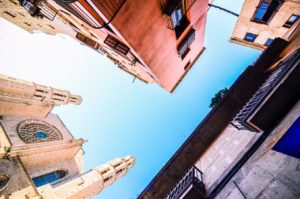 Program Description
Empires of Exchange is a Signature Seminar offered as a post-semester seminar for students attending the Syracuse Florence Center. The seminar invites you to consider:
What economic, religious, and cultural connections do Ravenna, Venice, and Trieste share?
How do the art and architecture of the past impact today's contemporary concerns of European political identity?
This traveling seminar investigates artistic exchange between the medieval and early modern cities of Ravenna, Venice, and Trieste to discover Roman, Slavic, Byzantine, Spanish, German, French, Arab, Ottoman, Muslim and Jewish influence on Italian art and culture. Throughout the seminar, you will experience the rich diversity of the Italian Peninsula's north-eastern territories, arriving all the way to its border. Through the themes of political power, cultural mobility and erasure, and the dynamics of shared urban spaces, you will analyze how the Mediterranean Sea connected Jewish, Christian, and Muslim peoples.
While the course focuses on the art and architecture of each region in the Middle Ages and the Early Modern period (1000-1700), consideration is also given to the modern afterlives of these sites. Ultimately, you will examine how the medieval and early modern past still inform contemporary concerns on immigration and European political identity.
View Empires of Exchange 2021 seminar details.
---
Program Dates
Empires of Exchange will be offered as a post-semester seminar in fall 2021 (November 30 – December 10, 2021).
---
Course Information
HOA 300 – Empires of Exchange: Images of Power and Identity in the Mediterranean (3 credits)
---
Faculty
The seminar will be led by Professor Sean Nelson, whose research and teaching interests focus on cross-cultural dialogue between Early Modern Florence and the Islamic lands, predominantly the Mamluk Sultanate and the Ottoman Empire.
---
Program Itinerary
Seminar locations are subject to change, but common destinations for this seminar include Ravenna, Venice, and Trieste.
---
Eligibility and Admissions
Empires of Exchange is open to students admitted into the Syracuse Center semester programs in Florence. Interested students must complete the Signature Seminar questionnaire in OrangeAbroad. A $300 deposit will be required to hold your place in the seminar. This is due upon receipt of your Empires of Exchange acceptance email. Details on submitting the deposit will be included in your acceptance email.
Space is limited, and it is to your advantage to apply early. In the event that there is insufficient interest in the seminar, Syracuse Abroad may choose to cancel the program your deposit will be applied to your semester charges.
Please note that you are required to register for at least 13 additional credits for a minimum of 16 credits for the semester. You should further understand that, if you register for more than 19 total credits, you will be charged additional tuition fees for each credit over 19, and you may not register for more than 22 total credits without prior academic approval.
---
Cost
An Empires of Exchange seminar fee will be posted to your Syracuse Bursar account in addition to the semester program fee.
Please check with your financial aid office to determine if financial aid can be used towards the seminar fee. The program fee charge covers air and ground transportation during the program, entrance fee to all seminar sites, and hotel accommodations.