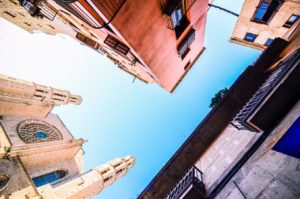 Program Description
Empires of Exchange illustrates the histories of Palermo (Italy) and Barcelona (Spain) through the themes of political power, cultural mobility and erasure, and the dynamics of urban spaces. Through hands on exploration of the regions' monuments, you will discover how these regions once shared economic, religious, and cultural connections, as well as a united political rule under great empires such as the Kingdom of Aragon and the Holy Roman Empire.
While studying the art and architecture of each region in the Middle Ages and the Early Modern period (1000-1700), you will examine how the Mediterranean Sea connected peoples of varying cultural and religious backgrounds. You will also reflect on the modern afterlives of Palermo and Barcelona, considering how the medieval and early modern past of these now distinctly different regions still inform contemporary concerns on immigration and European political identity.
---
Program Dates
Empires of Exchange is offered as a pre-semester seminar, beginning in 2021.
---
Course Information
HOA 300 – Empires of Exchange: Images of Power and Identity in the Mediterranean (3 credits)
The course will have a seminar format, with lectures framing questions at the beginning of each session. Students will select one theme (Power, Mobility, Erasure) associated with a selection of pre-determined monuments and create a sustained generational Deep Map of Palermo and Barcelona. The course will culminate in a final project using the material developed from students' on-site work.
---
Faculty
The seminar will be led by Professor Sean Nelson, whose research and teaching interests focus on cross-cultural dialogue between Early Modern Florence and the Islamic lands, predominantly the Mamluk Sultanate and the Ottoman Empire.
---
Program Itinerary
Seminar locations are subject to change, but common destinations for this seminar include: Palermo (Italy) and Barcelona (Spain).
---
Eligibility and Admissions
Empires of Exchange is open to students admitted into the Syracuse Center semester programs in Florence. Interested students must complete the Signature Seminar questionnaire in OrangeAbroad. A $300 deposit will be required to hold your place in the seminar. This is due upon receipt of your Empires of Exchange acceptance email. Details on submitting the deposit will be included in your acceptance email.
Space is limited, and it is to your advantage to apply early. In the event that there is insufficient interest in the seminar, Syracuse Abroad may choose to cancel the program your deposit will be applied to your semester charges.
Please note that you are required to register for at least 12 additional credits for a minimum of 15 credits for the semester. You should further understand that, if you register for more than 19 total credits, you will be charged additional tuition fees for each credit over 19, and you may not register for more than 22 total credits without prior academic approval.
---
Travel Arrangements
Syracuse Abroad offers a group flight for students admitted to the Empires of Exchange seminar. Group flight information will be sent to all admitted students in the Empires of Exchange acceptance email. Students who choose to fly independently are responsible for making their own travel arrangements but must follow the dates of the program.
---
Cost
An Empires of Exchange seminar fee will be posted to your Syracuse Bursar account in addition to the semester program fee.
Please check with your financial aid office to determine if financial aid can be used towards the seminar fee. The program fee charge covers air and ground transportation during the program, entrance fee to all seminar sites, hotel accommodations & some meals.