In Madrid, students can choose between two options for housing: a homestay with a Spanish family or placement in a residence hall.
The Homestay Experience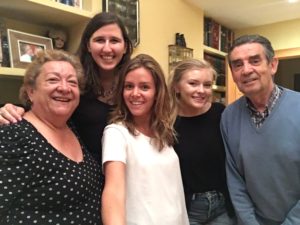 In a homestay, you will be welcomed into the home of a Spanish family in Madrid. Students in homestays have an unique opportunity to experience typical Spanish customs, meals, and celebrations. Our Spanish families are friendly and hospitable, and their objective is to create a welcoming environment where you can feel at home for the duration of your semester abroad.
The experience of each student is unique, as there is no such thing as a typical family. You may live with a family with children, a married couple, or a single person who may be an older widow or a single businessman or woman.
Students generally feel that the homestay is one of the most enriching parts of their study abroad experience. With the help of locals, students make a much smoother transition when trying to adapt to their new neighborhood, city, and country. If you come to Madrid with an open mind and a willingness to learn a new culture, you will have an enjoyable and unforgettable experience.
Students residing with a host family will receive 14 meals weekly, breakfast & dinner daily. Bedding is provided, as well as weekly laundry service. Students typically live with another student from the Syracuse Madrid program, either in single rooms or doubles. All homestays are located within a 35-minute commute by public transportation or walking to the Syracuse Madrid Center. Spring semester students are responsible for their housing & meals during the mid-semester break (10-days) and will need to cover the costs out of pocket.
NOTE: Students residing with host families may make specific roommate requests in the post-decision process.
El Faro Residence Hall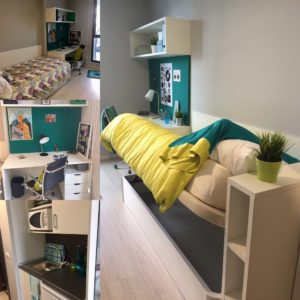 The residence hall, Colegio Mayor El Faro, is situated in the Moncloa neighborhood of downtown Madrid and is a 30-minute walk to the Syracuse Madrid Center. The rooms are double occupancy and include a small kitchen with a sink, mini-fridge, and microwave. Bed linens and bath towels are provided and laundered weekly by the cleaning staff. Three meals a day in the El Faro cafeteria are included in this option.
In the residence hall, you will live with Spanish and other international students. This will give you the chance to be culturally immersed and practice your Spanish language skills with your international peers.
Considering room availability in El Faro is limited each semester, there is no guarantee that your request to live in El Faro will be fulfilled. If you are not placed in the residence hall, you will be assigned a host family. Students residing in El Faro will be placed on a random roommate basis while taking into consideration the information you provide on the Housing Form (a post-decision form).
Securing a space in the residence hall will be based on your commitment to engage in three culturally immersive Plan Go activities throughout your semester in Madrid and agree to all the requirements in the Conditions of Participation form and the Housing Contract. Plan Go is El Faro's cultural programming. Participation in the activities is intended to promote cross-cultural experiences not typically inherent to dormitory living, and activities must be pre-approved by the Syracuse Madrid Housing Coordinator and the Resident Assistant (RA).
NOTE: Priority will be given to students with higher Spanish language skills. Spanish language level is defined by previous college-level Spanish coursework (or AP equivalent) as it appears on an official college transcript. Native/Heritage Spanish speakers without previous Spanish coursework must demonstrate language level via the SU Spanish Placement exam.
All students who are placed in the residence hall will need to pay a $300 deposit and sign a housing agreement form to confirm their placement in El Faro.
For financial details, please visit the Cost & Aid section for the Madrid Center programs.