In Madrid, students can choose their preferences between four options for housing: a homestay with a Spanish family, placement in the Hubr Xior residence hall, or placement in The Student Hotel. After a careful review, roommate assignments will be made by the Madrid Housing Coordinator to ensure the best fit for a meaningful semester.  Please note we have limited capacity in the residence halls.
NOTE: Students requesting the same housing option may make specific roommate requests.
---
The Homestay Experience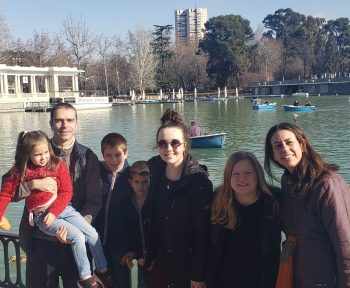 In a homestay, you will be welcomed into the home of a Spanish family in Madrid. Students in homestays have an opportunity to experience typical Spanish customs, meals, and celebrations. Our Spanish families are friendly and hospitable, and their objective is to create a welcoming environment where you can feel at home for the duration of your semester abroad.
The experience of each student is unique, as there is no such thing as a typical family. You may live with a family with children, a married couple, or a single person who may be an older widow or a single businessman or woman.
Students generally feel that the homestay is one of the most enriching parts of their study abroad experience. With the help of locals, students make a much smoother transition when trying to adapt to their new neighborhood, city, and country. If you come to Madrid with an open mind and a willingness to learn a new culture, you will have an enjoyable and unforgettable experience.
Students residing with a host family will receive 14 meals weekly, breakfast & dinner daily. Bedding is provided, as well as weekly laundry service. Students typically live with another student from the Syracuse Madrid program, either in single rooms or doubles. All homestays are located within a 35-minute commute by public transportation and/or walking to the Syracuse Madrid Center. Spring semester students are responsible for their housing & meals during the mid-semester break (10-days) and will need to cover the costs out of pocket.
Students placed with host family receive 14 meals weekly
Host family provides linens, does laundry & cleans room weekly
---
Hubr Xior Residence Hall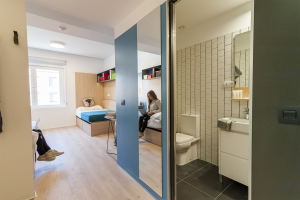 The Hubr Xior residence hall is located in the Salamanca neighborhood of central Madrid and is a 20-minute walk to the Syracuse Madrid Center. The rooms are double occupancy and each floor has a kitchenette with a sink, microwave, dining area and full-size refrigerator. Bed linens and bath towels are provided and laundered weekly by the cleaning staff. Forty meals per month in the Hubr cafeteria are included in this option (20 breakfasts and 20 other meals).
In the residence hall, you will live with Spanish and other international students. This will give you the chance to be culturally immersed and practice your Spanish language skills with your international peers.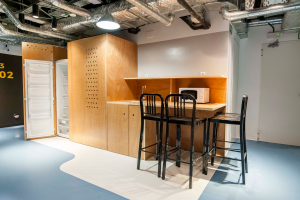 All students who are placed in the residence hall will need to  sign a housing agreement to confirm their placement in Hubr.
Double room with a private bath; kitchenette; fully catered (3 meals per day during the program period)
Includes utilities; weekly cleaning service; linens & towels; onsite, coin-operated washers & dryers; access to photocopying & printing services for a fee; 24-hour onsite staff
NOTE: This housing option has limited capacity.
---
The Student Hotel – Madrid
The Student Hotel-Madrid, from the same The Student Hotel company used by Syracuse Abroad's center in Florence, is set to open its doors for the fall semester, 2022.
The building is a refurbished printing house, La Imprenta, and is just ten minutes from the iconic Gran Vía and the Spanish Royal Palace. It's also walking distance to the Príncipe Pío transportation hub, where students can take a quick subway ride on line 10 to the Syracuse Madrid center.
The space is divided in two wings, a four-star hotel side, and a student residence hall side.  The residence hall space offers single room accommodations with an en-suite bathroom. Students can either eat in the cafeteria or use the large common kitchen, where they will have access to their own refrigerated locker.  Students will also have access to co-working space, study areas, and an exercise room.  This space offers a single-room and the possibility to cook their own meals, which is currently not in Syracuse Madrid's menu of housing options. It also gives students easy access to the beautiful Madrid Río area as well as to the above-mentioned locations.
NOTE: This housing option has limited capacity.
---
Students requesting disability-related housing accommodations should indicate this while completing their post-decision questionnaire "Accommodations for Students with Disabilities" due within 10 days of acceptance. Visit Disability Accommodations Abroad to learn more.