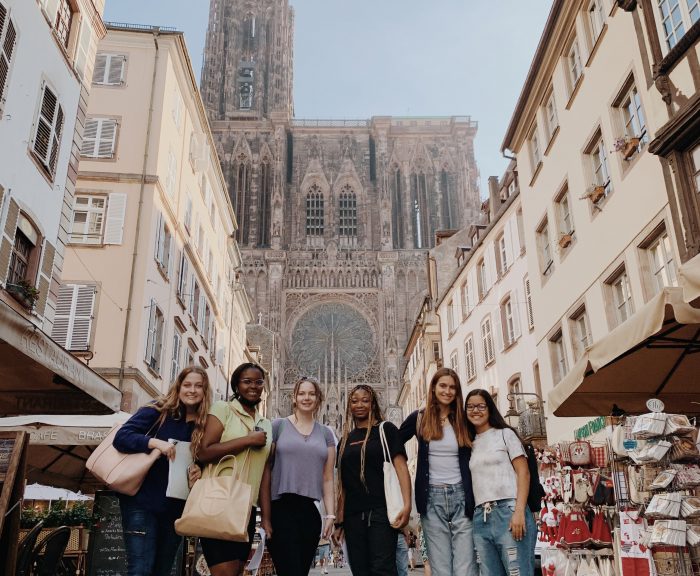 Strasbourg is a city roughly the size of Syracuse, but with a rich and varied cultural life. Its museums, ballet, opera house, symphony orchestra and theaters make it the capital of traditional culture for all of eastern France.
With its dynamic contemporary music scene, you can find venues showcasing everything from French hip hop to heavy metal. If you're into sports, you can follow the Strasbourg soccer and basketball teams, both of which are in the top division. The Syracuse Strasbourg Center's Student Activities Coordinator will help you take advantage of everything the city and surrounding region has to offer.
We like to think of Strasbourg as the Goldilocks city: not too big and not too small, but just right! It's small enough for you to feel at home in after just a couple of weeks yet it's big enough for you to always find something to do when you have a bit of free time. It has the charm of old Europe, with its winding streets and half-timbered houses; but it is also a very young city, home to 50,000 students.
And if you need a break from France, all you need to do is hop on the tram (with the pass that you receive as part of your program fee) and head over the Rhine river to the German city of Kehl. In just 15 minutes you'll find yourself in a completely different culture!
Syracuse Strasbourg Center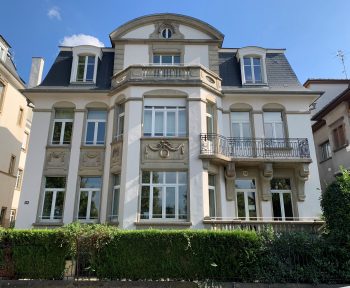 The Syracuse Strasbourg Center is located in a recently renovated villa, just a short walk from the European Institutions and downtown. With its classrooms, student lounge, library and staff offices, the Center will be your base in Strasbourg.
The high staff-to-student ratio means that you'll always have someone to turn to if you need any kind of assistance, whether it's for renting a bike or figuring out the local cell phone companies.
Students requesting disability-related housing accommodations should indicate this while completing their post-decision questionnaire "Accommodations for Students with Disabilities" due within 10 days of acceptance. View Disability Accommodations Abroad to learn more.
See Independent Housing Policy below.
---
The Homestay experience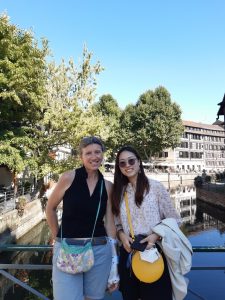 Living with a host family is a key part of our program! Not only will you be able to practice your French on a daily basis, but you'll gain deeper insight into French culture. You will have your own room in your host's house or apartment, and will be provided with breakfast every morning, and dinner five nights per week. With your transportation pass (provided by SU) you'll find that it's easy to get to the Syracuse Center.
Our housing coordinator makes host family placements based on extensive experience with all the hosts, many of whom have welcomed students into their homes for a decade or more.
Single bedroom with common space and shared bathroom
Sheets/linens included
Utilities covered
Wi-Fi
12 meals weekly (7 breakfasts, 5 dinners)
---
Studio Apartment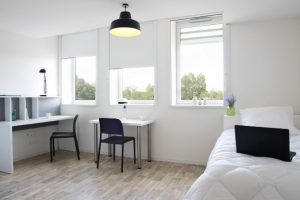 La Canopée Student Residence
Students have the additional housing option to live in a private furnished studio apartment.
Individual studios, located in an apartment building near the Strasbourg city center and the Syracuse Strasbourg Center, offer students the opportunity to live like local French students in a quiet student residence.
Individual studio apartments with kitchenette and private bath (shower)
Includes utilities*: bedding, linens & towels; onsite, card-operated washers & dryers for a fee (approx. 7 € per load); 24-hour onsite maintenance staff.
Meals are not included in this housing option, and students will be responsible for shopping for and preparing all meals. Canopée residents should budget accordingly. 
Basic kitchen supplies (pots, pans, dishes) are provided. 
La Canopée is a 15-minute walk or a 10-minute commute (combination of public transportation and walking) from the Syracuse Strasbourg Center.
All students who are placed in the student residence will need to sign a housing agreement to confirm their placement in La Canopée. 
Important Considerations when choosing La Canopée:
View La Canopee Guidelines & Norms
La Canopée Residence is an apartment building and not a student dorm. Students should expect a very studious and quiet environment.
No parties or overnight guests allowed.
Smoking and alcohol are prohibited in the residence.
Please note:
This housing option has limited capacity.
La Canopée Residence does not have air-conditioning.
Studio apartments are approximately 200 square feet. There is no exterior space (balcony, terrasse, etc.). 
*Heating and hot water are included in the rental cost; however, electricity costs are based on a prepaid estimate. Excessive electricity consumption may result in additional costs.
---
Independent Housing Policy
Syracuse University's policy requires all students to reside in program housing unless they meet specific criteria and are granted a waiver through a petition process. Our independent housing petition process is limited to students who meet one of the following criteria: religious reasons, disability disclosure that cannot be accommodated by program housing, or family member resides in the city of program.
The deadline for submitting the independent housing petition form waiver is May 1 (for fall semester) and October 1 (for spring semester). View Independent Housing Policy for more information.
---
Please note that while we will try to honor your housing preference, we cannot guarantee that you will be placed in the housing option that you prefer due to space limitations in each of the housing options.