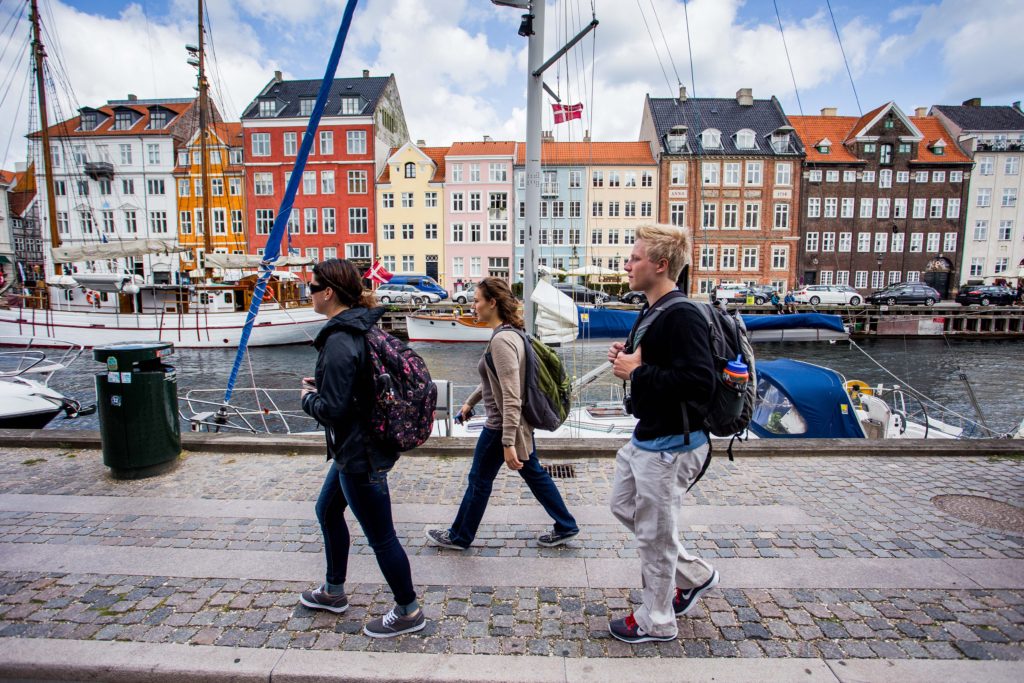 World Partner Programs in Europe and Russia
To begin your application, click the link in the appropriate program title, and then 'Apply Now.' Most program applications are due March 15 for fall and October 1 for spring. Please note that some programs have early application dates – check the individual program pages for details.
---
Austria
Students enrolled in this program will study and live as an Austrian student, immersing yourself in the culture and attending classes alongside other international and local Austrian students. Classes are offered in both German and English, though there is no German language pre-requisite. The three-week intensive German language courses offered at the beginning of the semester are highly recommended as linguistic and cultural preparation for your semester.
Program Type: ExchangeClick for more info
---
Czech Republic
This program through CET gives students an opportunity to spend a semester at FAMU. Among the oldest and finest film academies in the world, FAMU has played an integral role in Czech cultural history for the last sixty years. The FAMU campus is located in the historic Lazansky Palace with a view of the Prague Castle.
Program Type: HybridClick for more info
Study abroad on the campus of Anglo-American University, taking classes in English with Czech, Eastern European, American, and international students. Students can also choose to take CEA CAPA courses and incorporate a professional internship placement into their semester. Prague, the City of a Hundred Spires, is known as the cultural, political, and economic center of Central Europe, and is famous for its beautiful architecture, fascinating history, and exciting cultural attractions. Anglo-American University offers a comprehensive course listing, specializing in communications, business, humanities and social science, and international relations. Learn more about CEA CAPA Prague on Instagram!
Program Type: HybridClick for more info
---
Denmark
Located in the heart of Old Copenhagen, you will choose from a range of course options, including international business, justice and human rights, sustainability in Europe, urban design, and global economics, among many others. All courses are taught in English. You will choose one core course (which includes a weeklong study tour) in your designated program and then fill your schedule with electives from any discipline. Danish language is offered but not required. Field studies and practicums will ensure that you interact with the city and its people and benefit professionally and socially.
Program Type: Center-BasedClick for more info
---
England
The London College of Fashion has a long tradition of providing specialized education for the fashion design and product development industries. Students take a full semester of courses in fashion design alongside other international and British students. Open only to fashion majors.
Program Type: Direct EnrollClick for more info
This program provides a range of learning and research experiences at the highest levels to enable students to acquire knowledge and skills in an environment that places theatre and performance practice at the center of the learning experience. The practice-based nature of the program requires an extensive range of specialist studios, workshops, rehearsal and performance spaces. Open only to drama majors.
Program Type: ExchangeClick for more info
---
France
The Sciences Po program offers advanced undergraduates and graduate students a broad-based education conveying multidisciplinary knowledge in social sciences within an international context. It is located in one of Paris's most famous districts, Saint Germain des Pres, which has been host to the literary and artistic life of Paris since the 17th century. Open only to undergraduates in the social sciences with 400-level French proficiency or previous study abroad experience in France. Open to graduate students studying international relations.
Program Type: ExchangeClick for more info
---
Germany
This program is designed to give students the opportunity to develop and polish their language skills in a German-speaking environment. Two required courses are delivered via a pre-semester traveling seminar led by Colgate faculty. The semester at Freiburg University begins in mid-April, when you will take two to three elective courses in German alongside other German students.
Program Type: HybridClick for more info
FU-BEST Freie University Berlin
The FU-BEST Freie University Berlin program is located at Freie Universität, one of Germany's premier institutions of higher education. Most FU-BEST courses are taught in English, in such disciplines as cultural studies, art history, comparative literature, the European Union, German history, German and European politics, sociology/psychology, film studies, comparative religion, and philosophy. There is no German language pre-requisite to apply, but students are required to take a language course during the semester in Berlin.
Program Type: Center-BasedClick for more info
---
Ireland
This program takes place at the top university in Ireland. Founded in 1592, it is Ireland's oldest operating university and one of the seven ancient universities of Britain and Ireland. The historic and beautiful campus is home to one of the most iconic libraries in world and has a wonderful mix of modern and historic facilities. Trinity sits in the very center of Dublin city, with access to all that the capital city has to offer, yet maintains a truly cohesive campus community.
Program Type: Direct EnrollClick for more info
Located on the Belford campus, a vibrant, modern university situated on a spacious and leafy campus about a 20 minute bus ride from Dublin city center. It is one of the 30 top research universities in the European Union with a student population of 22,000 (2,000 international students). Syracuse students choose from the same range of courses as full degree students and are taught and examined in the same manner.
Program Type: Direct EnrollClick for more info
Located astride the majestic river Shannon, the University of Limerick enrolls over 12,000 students. You'll take a full semester of courses alongside other international and Irish students. UL offers a wide selection of undergraduate courses from its six colleges of the University: Business, Education, Engineering, Humanities, Informatics & Electronics and Science.
Program Type: Direct EnrollClick for more info
---
Italy
Courses at the CEA CAPA Rome Center allow you to explore and experience all that the Eternal City has to offer. Students combine courses taught in English with one Italian language course and take full advantage of Roman history and culture, with a focus on active learning outside the classroom. The CEA CAPA Rome Center is in the vibrant Prati neighborhood, within walking distance of Vatican City, Castel Sant'Angelo, and other UNESCO World Heritage sites. This central location makes it easy to visit galleries, museums, art studios, local businesses, historic sites, food markets, and more—all designed to bring lessons taught in the classroom to life.
Program Type: Center-BasedClick for more info
---
Russia
Please note that all programming in Russia and Ukraine is currently suspended.
Founded in 1996, SRAS: Study, Research, and Custom Programs Abroad currently offers programs across Eurasia while they are unable to operate in Russia. SRAS collaborates with leading educational institutions and service providers to create innovative programming.
Syracuse students can pursue Russian language study in Bishkek, Kyrgyzstan through the Central Asian Studies program or the Russian as a Second Language program.
Program Type: Center-BasedClick for more info
---
Scotland
University of Edinburgh (IFSA)
IFSA's University of Edinburgh Partnership provides students with the opportunity to take courses at the sixth oldest university in the English-speaking world. Founded in 1583, the University has five main campuses in the city of Edinburgh, with many of the buildings in the historic Old Town belonging to the University. The University played an important role in leading Edinburgh to its reputation as a chief intellectual center during the Age of Enlightenment and helped give the city the nickname of the Athens of the North. The University is a member of Britain's Russell Group of universities, similar to the Ivy League. Edinburgh is a glorious city dominated by Edinburgh Castle. Edinburgh has it all – beautiful, spacious parks, urban convenience, transportation links to the UK & Europe, and an unrivaled historical atmosphere.
Program Type: Direct EnrollClick for more info
---
Spain
The CEA CAPA Barcelona program is designed for students of all language levels who wish to take courses in English and Spanish from a wide variety of subject areas within the liberal arts and social sciences. Students may also incorporate a professional internship placement into their semester. The program provides many opportunities for students to immerse themselves in Barcelona. As Spain's second largest city, Barcelona offers the perfect blend of historic and modern, combining the charm of the medieval Gothic quarter with thriving immigrant cultures, Gaudi's quirky architectural creations and world class dining and shopping on the Mediterranean Coast. Learn more about CEA CAPA Barcelona on Instagram!
Program Type: Center-BasedClick for more info
---
Sweden
At DIS Stockholm, you will choose from a range of programming options, including gender and sexuality, global economics, medical practice, psychology, neuroscience, and public health. All courses are taught in English. You will choose one core course (which includes a weeklong study tour) in your designated program and then fill your schedule with electives from any discipline. Swedish language is highly recommended but not required.
Program Type: Center-BasedClick for more info