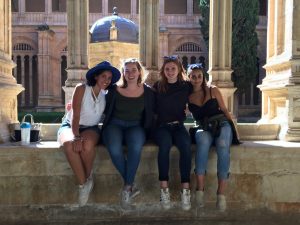 Cultural perceptions of women travelers vary significantly around the world. Views of gender and attitudes toward women abroad are important topics to research when deciding where to travel and study abroad. Syracuse Abroad encourages you to learn about the cultural differences, including norms, stereotypes and colloquialisms, in your host country, city and every subsequent place you choose to explore.
Before departing, you may want to consider these questions:
What types of gender roles exist in my host country?
What are the stereotypes that exist in the locations that I am traveling to?
How are women treated or viewed? How are men treated or viewed?
What are some expectations of the culture from both men and women in my host country?
Use these resources to get started:
Women Going Abroad: Diversity Abroad explores traditional gender roles and attitudes toward woman around the globe.
Women Travelers: The U.S. State Department provides information, tips and what to expects as a woman traveling abroad.
Women's Travel Guide: A safe-travel guide for women traveling abroad.
---
Student Stories
"Studying abroad can be excruciating, not because of frustrating hours of foreign language learning or the feeling of isolation in another land but because each contact with a certain known expands the awareness of the vastness of the unknown; the more you see, the more you realize there is left to see."

– Fatima Alibhai '23
Read more about Fatima's journey to self-discovery in Strasbourg: A Love Letter to Strasbourg, France
---
Recommended Scholarships
---
For more information about your host country or countries of interest, contact your International Program Advisor. To learn more from your peers, we encourage you to reach out to Global Ambassadors. These are alum from various programs and locations that are willing to discuss their experiences with you and answer your questions!