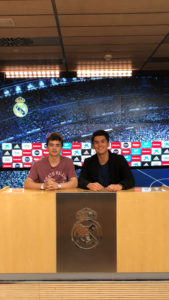 Name: Alejandro Muzaurieta '19
Major: Finance
Semester abroad: Spring 2018, Florence and Summer 2016, Madrid
What was your most valuable experience abroad? My most valuable experience was living with two host families in Madrid and Florence. During my stay, I got to connect to the country and their culture much more deeply.
Contact:  ajmuzaur@syr.edu
---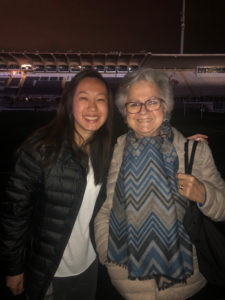 Name: Jenna Pecora '19
Major: Economics
Semester abroad: Spring 2018
What was your most valuable experience abroad? I stayed with an Italian grandmother in Florence, Italy. I became very close to her that I felt like I was part of Giovanna's family and just not a guest in her home. All of her home-cooked meals were amazing and I felt like I was eating at a five-star restaurant every time. Her grandsons came over every day during the week and it was fun trying to communicate with them! I even went to their birthday party! Although traveling on the weekends was fun, I was always glad to come back to Florence as Giovanna made me like Florence was my home for the four months that I was there. I still text her on WhatsApp and I am forever grateful for her as she really did make my experience abroad.
Contact:  jpecora@syr.edu
---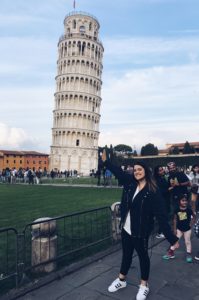 Name: Jillian Fabiano '20
Hometown: Weymouth, MA
Major: Undeclared
Semester abroad: Fall 2017
What did you wish you had known before going abroad? It is a lot less nerve-wracking than I thought it would be. Going as a sophomore, and not knowing anyone else in the program, I had the fear of, "what if I don't make any friends?" Those fears disappeared as soon as I got to the airport. I instantly realized how friendly everyone on the program was and how everyone was in the same boat as me. I thought that it was going to be all juniors from SU that had friendships already established, but that was not the case at all. I have shared some of my favorite memories with the friends that I met abroad, and I know that they are friends that I will have for the rest of my life. (We have already talked about how there is going to be a "Florence" table for everyone to sit at each of our weddings!)
Contact: jafabian@syr.edu
---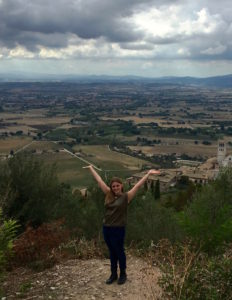 Name: Julia Riley '20
Hometown: Ossining, NY
Majors: Chemistry and neuroscience
Semester abroad: Fall 2017
What was your most valuable experience abroad? I've taken Italian for about eight years now and my roommate had a similar background, and since my host mother didn't really speak or understand English we spoke only Italian at home. The result was incredible; throughout those four months, I went from stumbling awkwardly through sentences to feeling like I could really express myself in Italian– sometimes, it felt, in ways that I wouldn't even be able to otherwise because of the existence of certain words and moods that simply don't exist in the English language. Both my appreciation for the language and culture and the hands-on lessons I learned through Italian history about the need to actively participate in society to promote good in the world will stay ingrained in me for years to come.
Contact: juriley@syr.edu
---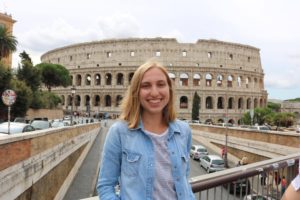 Name: Taylor Watson '19
Hometown: Utica, NY
Major: Magazine journalism
Semester abroad: Fall 2017
What was your most unforgettable experience abroad? I attended a meeting about student life activities in the beginning of the semester, and they told us the school has a soccer team that anyone can join. I love soccer, but hadn't played since high school. I saw it as a great opportunity to reignite my passion and dive into the Italian "calcio" culture. I signed up and showed up to the field for the first day of practice. I didn't know anyone else there, but we were all eager to play the game. Some people had clearly been the star of their high school teams, some people were playing for the first time, and others were there to get some exercise, but we all shared enthusiasm.
Contact: tnwatson@syr.edu
---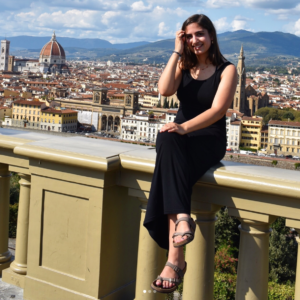 Name: Inbar Porat '19
Hometown: Westborough, MA
Major: English and textual studies
Semester abroad: Fall 2017
What did you wish you had known before going abroad? I wish I knew to pack MUCH less stuff. Not necessarily because you won't need it all (which is true, you won't), but because you're probably going to buy a lot of stuff when you're there, and you won't want to leave anything behind. And nothing is less fun than dragging around heavy and extra bags through the airport with the risk that they might not make it on the plane.
Contact: iporat@syr.edu
---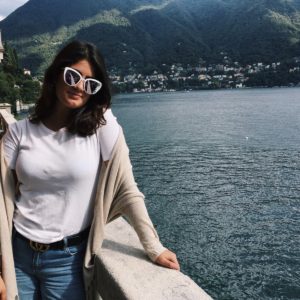 Name: Giulia Milana '19
Hometown: Glen Head, NY
Majors: Broadcast & digital journalism and Italian language, literature, and culture
Semester abroad: Fall 2017
What was your most valuable experience abroad? I was in the Intensive Language Program and it was the greatest experience of my life. I was able to fully immerse myself in the Italian culture. I met people from all over the world: Russia, Japan, Korea, Argentina, etc. The beauty of the course was that nobody spoke English so I didn't have it to fall back on. I was forced to speak, read, listen, and write in Italian because that was our only common language.
Contact: gmmilana@syr.edu
---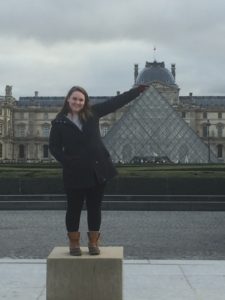 Name: Sarah Hodgens '19
Hometown: Mendon, MA
Majors: Psychology and Art history
Visiting college: Boston College
Semester abroad: Fall 2017
What was your most valuable experience abroad? About a week before Thanksgiving, my host family asked if they could speak to me. It was one of the most thoughtful and genuine moments of my experience in Florence. They sat me down and told me that they knew how important Thanksgiving was to me, and asked me if I would join them for a celebration at one of their American friend's apartments. On the day of Thanksgiving we went to the friend's apartment and where there was a beautiful turkey, mashed potatoes, cranberry sauce, and every other traditional Thanksgiving food that you could think of! We told stories, we gave thanks, we laughed, and we made so many wonderful memories. The whole set of events that occurred was something that I could have never imagined happening when I first set my sights on studying in Florence.
Contact: hodgensb@bc.edu
---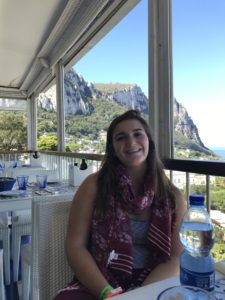 Name: Alana Franceski '19
Hometown: Fort Edward, NY
Majors: Forensic science, anthropology, and biology
Semester abroad: Fall 2017
What was your most valuable experience abroad? It was about a month and a half into the semester and I was feeling more confident with my Italian. While I was waiting, a man and his mother approached the bus stop. They quietly argued and then asked me a question about the bus schedule. I responded in Italian and then we had a conversation about where the mother was going and why I was in Italy. It was an amazing feeling to finally feel confident about speaking Italian and feeling like I belonged there.
Contact: alfrance@syr.edu
---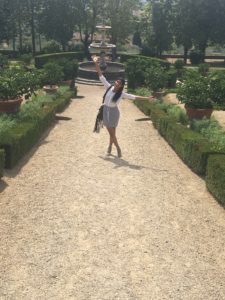 Name: Izmailia Sougoufara '20
Hometown: Cleveland, OH
Majors: Neuroscience and biology
Semesters abroad: Fall 2016 (Discovery Florence); Summer 2017 (Paris Noir)

What would you say to a student undecided about going abroad? This is not an opportunity you want to pass up and constantly wonder how your life would have been different if you hadn't. All the places you'll see, things you'll learn, and people you'll meet are irreplaceable. Aside from the specific skills you'll gain like learning a new language, being exposed to a new culture, and learning to navigate in a new space, you will begin broadening your perspective and forming a more adaptable mindset. Studying abroad gives you an edge, makes you unique and sets you apart from your future competition.
Contact: isougouf@syr.edu
---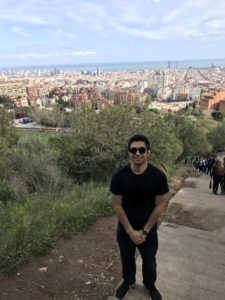 Name: Matthew Micheline '19
Hometown: Airmont, NY
Major: Civil engineering
Semester abroad: Spring 2017

What do you wish you had known before going abroad? I knew this experience was going to be none like I've ever had, and I sincerely wanted to figure it out on my own. I wanted to make friends on my own, I wanted to travel to places I've never been, I wanted to experience new and exciting foods, and I wanted to see how people across the pond live. The entire trip for me has been one large learning experience and I'm happy with how prepared or unprepared I was.
Contact: mmicheli@syr.edu