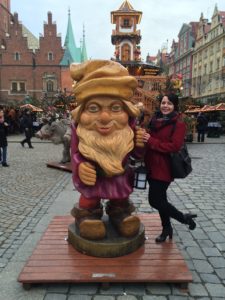 Name: Lindsay Zerfas '18
Hometown: Oak Grove, MN
Majors: Philosophy and religion
Semester abroad: Fall 2016
What was your most valuable experience abroad? The opportunity to grow academically. Not only were the classes unlike any I have taken before, but the smaller program size allowed for individual attention to be given on assignments and papers. The classes allowed me to write and research topics that I love and I was able to receive individual attention on the papers throughout the writing process. The professors dedicated their time to finding and teaching to our interests and even took time out of their personal lives to meet with us and discuss our work. This meant that I was able to grow immensely as a writer, a researcher, and a student. Additionally, the research was done and classes were taught in the very areas we were learning about; through this, the history became tangible. It also meant that we had valuable access to primary resources, ones we could not have accessed from the United States. These things combined meant that I came out of Europe a much better student than the one I was when I departed from the United States.
Contact: lbzerfas@syr.edu
---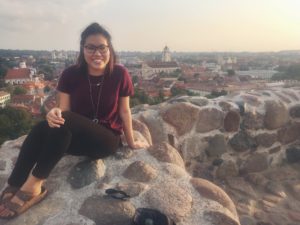 Name: Ali Dunbar '18
Hometown: Omaha, NE
Majors: Anthropology and Citizenship & civic engagement
Semesters abroad: Fall 2016 (Central Europe), Summer 2017 (Israel), Fall 2017 (Beijing), Spring 2018 (SIT Peace & Conflict in the Balkans)
What was your most valuable experience abroad? The Central Europe program provided an experience that will last a lifetime. Traveling to places of commemoration and learning about different organizations' initiatives of reconciliation work transformed abstract history into palpable experience. Moreover, it allowed me to gain a better understanding of how the history of a particular state or region transcends international borders, influencing other countries sense of identity as well, such as the United States. It opened my eyes to how the history we learn impacts present-day perceptions of the world. Through the program you learn how interconnected states' histories are and how a state's identity is never fixed, it is always in flux and a topic for negotiation.
Contact: adunbar@syr.edu
---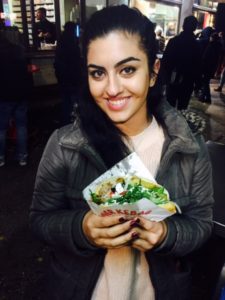 Name: Rosa Beyk '18
Hometown: Winter Garden, FL
Major: Political philosophy
Semester abroad: Fall 2016
What would you say to a student undecided about studying abroad? What I would and currently do tell students that are undecided about going abroad is that if they are willing to learn and find out more about themselves then study abroad. Before I studied abroad, I felt as if I was learning and studying a bunch of textbook material that is hard to make practical in a real life situation. Going abroad helped me find myself and realize what I want to do with my education. So my advice to those who are undecided would certainly be to take the opportunity to go somewhere you never thought you would go and you will have an unforgettable experience.
Contact: rbeyk@syr.edu