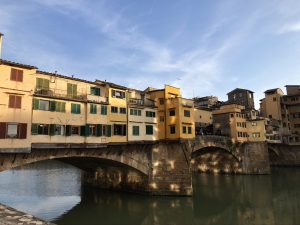 Please note: These FAQs do not apply to Florence Spring 2021 Architecture students. If you have any questions, please contact Cullen Stubbs at syrflorence@syr.edu.
As asked by former students, here are the top five questions we receive from students considering a semester in Florence:
---
Do I have to know Italian before I go? Do I have to study Italian while I'm abroad?
No, you do not have to know any Italian before you go. And yes, all students in our program study Italian while in Florence – but we have classes for all language levels, so you'll be placed in a class according to your level.
---
Do I have to live with a host family? Can I live in an apartment? Where is my house located?
All of our students (with few exceptions) live with host families . Our students love living with host families – without fail, each semester students rate their families as one of their best experiences of the semester, because they're able to pick up the language quicker and able to really immerse themselves into Italian life and culture.
Most families take two students, so you can have a roommate, and if you know someone who has been on the program before and recommended a certain family, you can request to live with that family.  We will try our best to accommodate your request. Host families are located all over Florence – you may be a short walk or a bus ride away from the Syracuse center, but you're never too far, because Florence is not a huge city.
Syracuse Florence has apartments  in the city for architecture and studio arts students – these students have this option due their studio schedules. With their late studio time, it's harder for these students to make it home to their host families for dinner every night. Some architecture and studio arts students do choose to live with families, and that's fine, too.
---
What do the Italian language university program options mean?
The intensive language option is for intermediate level Italian speakers. Generally, these students have taken three semesters of Italian before going abroad. If you choose this option, you will be taking intensive Italian language classes alongside other international students at the Centro di Cultura per Stranieri (international center at the University of Florence).
The direct enrollment at the University of Florence option is for high-level Italian speakers – those who have taken five to six semesters of Italian or the equivalent. Students in this program will enroll in classes at the University alongside Italian students. This is a challenging program, but is a great way to improve your language skills. In Florence, students will have a tutor who fill work with them and help them with their University of Florence classes.
---
Do I need to get a visa?
Yes, unless you are an EU passport holder, you will need to get a visa for studying in Florence. Make sure that you have a passport which is valid for at least six months after your study abroad program ends. The visa process is fairly lengthy, so we encourage you to get started right after your acceptance.
---
How do I apply? When will I find out if I've been accepted?
You can apply here. You will fill out an on-line application, upload a transcript, a study abroad approval form (visiting students only), and pay a $70 application fee (this has been reduced to $50 for fall 2021 programs). Once we receive all of these materials, your file will be reviewed for acceptance. We have rolling admission, so as soon as your application is reviewed, you'll receive a decision from our office.