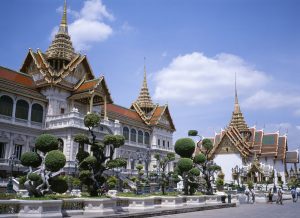 World Partner Programs in Asia
To begin your application, click the link in the appropriate program title, and then 'Apply Now.' Most program applications are due March 15 for fall and October 1 for spring. Please note that some programs have early application dates –  check the individual program pages for details.
---
China
Long known for its history of foreign influence, fashion, and economic prowess, Shanghai strives to become a global financial and shipping hub by the year 2020. In turn, the city has undertaken massive development projects over the past two decades. CIEE's program China in a Global Context gives students an in-depth understanding of China and its place in the world, with an introduction to Chinese language and a focus on colonial history, foreign policy, political development, and social issues that have impeded or given rise to modern China.
Program Type: Center-BasedClick for more info
Beijing is not only the center of activity in China, but also a reflection of China's long and evolving history. Amongst its 22 million inhabitants sit some of the nation's most culturally important sites, like The Forbidden City and The Great Wall. The CIEE Intensive Chinese Language program is designed to help students improve fluency in spoken and written Mandarin Chinese through intensive language training. Students will also choose one course taught In English to enrich their understanding about China.
Program Type: Center-BasedClick for more info
The Chinese University of Hong Kong, Shenzhen
The Chinese University of Hong Kong, Shenzhen strives to explore a new path of higher education featured by strong connections to both China and the world. The University is committed to providing top-quality higher education that features an integration of the East and the West and fostering an enriching research environment. It is CUHK-Shenzhen's mission to cultivate innovative talents with a global perspective, Chinese cultural traditions and social responsibilities.
This program is for Whitman undergraduates only. 
Program Type: ExchangeClick for more info
---
Hong Kong
Chinese University of Hong Kong (CUHK)
The Chinese University of Hong Kong (CUHK) is a top-ranked comprehensive research university with offerings in English, Cantonese, and Putonghua (Mandarin). The CUHK campus overlooks the Tolo Harbour and is the largest and greenest campus in Hong Kong. You will take a full semester of courses alongside other international and Chinese students. You may enroll in any courses if you meet the prerequisites and language proficiency requirements.
Program Type: ExchangeClick for more info
---
India
SIT India: Public Health, Gender, and Sexuality
The SIT India: Public Health, Gender, and Community Action program explores the links between public health, policy advocacy, and community with a focus on women, children, tribal communities, and other marginalized and vulnerable populations in India. You will explore the city of New Delhi, visit rural and tribal communities, take seminars on topics such as health tourism and mental health in India, work with an Indian NGO, and learn Hindi. You will also work on an Independent Study Project to critically examine a topic, situation, or community relevant to the topic of health and human rights in India.
Program Type: Field-BasedClick for more info
---
Japan
CIEE Arts and Sciences Program
Through the CIEE Arts and Sciences Program in Tokyo, Japan, take your studies a step further in a city that radiates light and energy (along with anime, Godzilla, and Hello Kitty). Prestigious Sophia University presents challenging academics and every level of Japanese language instruction you need – and plunges you into both a local and international student scene. Add colorful trips to explore beyond Tokyo, and you've got one amazing global adventure.
Program Type: Direct EnrollClick for more info
Kansai Gaidai University offers a wide range of courses, including business and economics, history, political science, religion and sociology, and studio art. The program provides international students with a means of exploring Japan and Asian studies through classroom instruction and interaction with Japanese people. Except for Japanese language courses, all courses are conducted in English.
Program Type: ExchangeClick for more info
Through the Center for International Education (CIE), Syracuse undergraduate students take courses at Waseda University (located in Tokyo), offered in English in the School of International Liberal Studies. This undergraduate program offers courses in history, religion, philosophy, economics, business and communication.
Program Type: ExchangeClick for more info
---
Republic of Korea
At Yonsei University, undergraduate students can choose from courses taught in English in liberal arts, political science, economics, education, and the Korean language. Graduate students may enroll in courses through the Graduate School of International Studies. The main campus is located in Anam-dong neighborhood, a hot spot for university students in Seoul, lined with shops, clubs, cafes, bars, karaoke, arcades, and restaurants.
Program Type: ExchangeClick for more info
Korea University (KU), located in the greater Seoul area, offers Syracuse undergraduate students courses in liberal arts, political science, economics, engineering, education, Korean language and business. Graduate students would take courses through the Graduate School of International Studies.
Program Type: ExchangeClick for more info