The Syracuse University Florence campus, located on and around Piazza Savonarola, lies just outside of Florence's medieval town center and consists of five historic buildings, all within easy walking distance of the city center.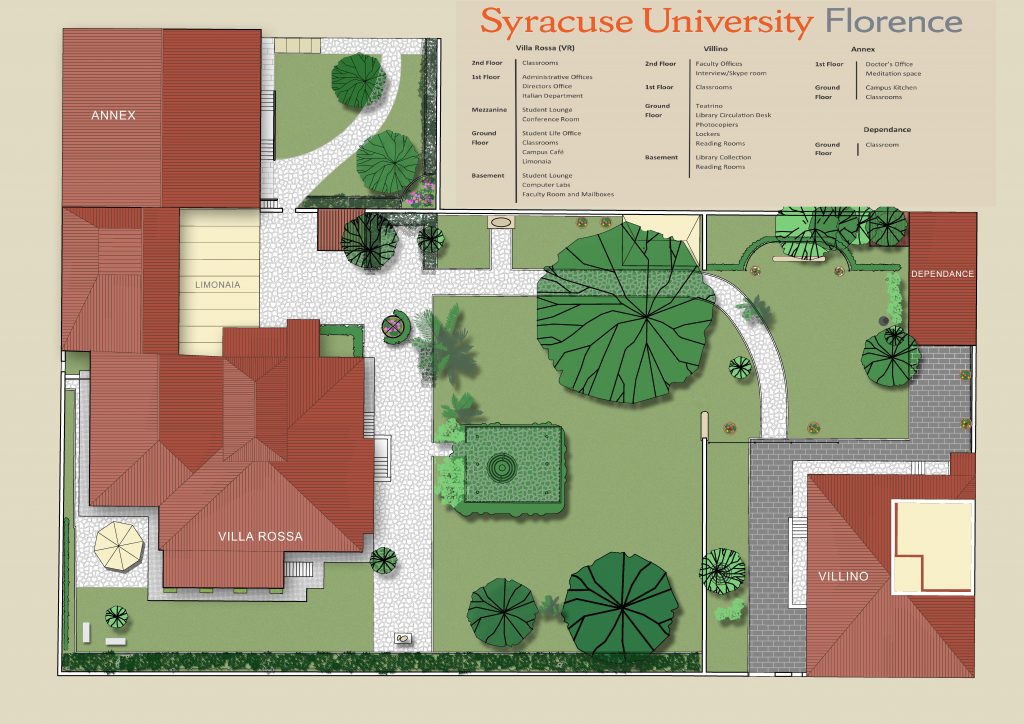 Villa Rossa is the campus hub. Most administrative offices, classrooms, the computer lab and snack bar are located here. Access to the garden, the Villino, the Annex and Dependance are all from the Villa Rossa located at Piazza Savonarola n. 15. Designed and built as a private residence by Italian nobleman Mario Gigliucci for his family of five in 1892, this unique, brick-colored villa has been home to the university's Florence program since 1959.
---
The Villino houses SU Florence's library, faculty offices and several classrooms. The library has six study rooms, a DVD viewing room, a student photocopier, scanner, and printer, and storage lockers. The library's books, journals, and DVDs are primarily curriculum-based, but the collection goes beyond academics, as well.
The Computer Lab, located on the basement level of the Villa Rossa, follows the same schedule as the Library.
---
Annex
The Annex, located next to the Villa Rossa, houses several classrooms, the doctor's office, a student lounge, and a professional kitchen for cooking classes. Most Italian language classes are held in the Annex. The hours are the same as for Villa Rossa and the Library.
---
Piazzale Donatello, a five-minute walk from the Villa Rossa, has for over a century been the artists' district of Florence thanks to the large, well-lit studios with lofty ceilings and tall windows. Syracuse Florence is fortunate to have such an ideal location for its painting, drawing, ceramics, restoration, and photography studios. The photography studio doubles as an art gallery for special exhibits, including the Student Art Show held at the end of each semester. A private garden for student and faculty use provides outdoor space.
---
The architecture studios are located at Piazzale Donatello 25, a few doors down from the studio arts building. Four large studios, two computer labs, and faculty and administrative offices are located in the same building. Students have access to a spacious terrace on the second floor and a small, private garden on the ground level.
---