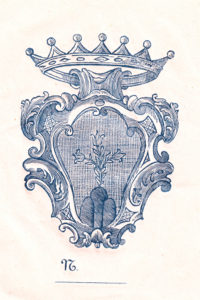 Giovanni Battista Gigliucci was born in Fermo, Italy, in September 1815. Orphaned at the age of 19 months, Giovanni Battista was brought up by his paternal grandmother and tasked with taking care of the family estate from a young age. While studying law, he grew interested in politics and became an active supporter of the Italian Risorgimento. He lived to see his dream of a united Italy realized in 1861 and was elected to political office as senator soon after.
Giovanni Battista passed on his passion for politics and a zealous sense of patriotism to his children and grandchildren. By marrying Clara Novella, an Englishwoman and renowned soprano singer, he lay the foundations for a social life which straddled English and Italian social circles in both Florence and London. Giovanni Battista and Clara's sons, Giovanni and Mario, also married Englishwomen, two sisters, Charlotte and Edith Mozely.
Both couples moved to Florence in the late 1870s where they would live for the rest of their lives. Mario and Edith had three children–Nerina, Donatello, and Bona, all of whom were very active in Florentine society as well as in the arts and doing volunteer work. None had children, and, therefore, Mario's branch of the family died out when his youngest daughter, Bona, passed away in February 1982.
What follows is a brief overview of the Gigliucci family from the birth of Giovanni Battista to the death of his granddaughter, Bona.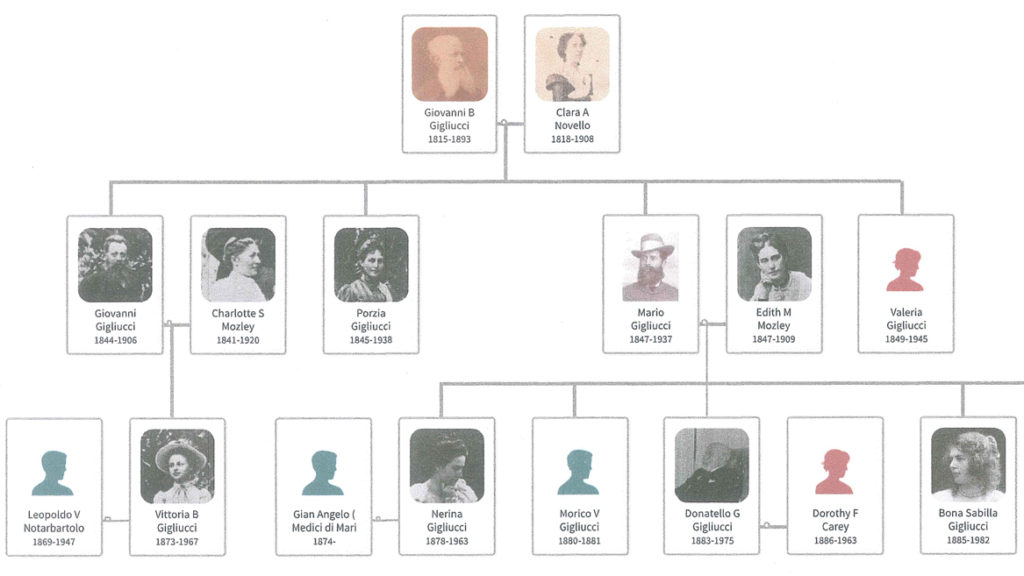 ---
Giovanni Battista Gigliucci and Clara Anastasia Novello
On 19 September 1815, Giovanni Battista Gigliucci (1815-1893) was born in Fermo, Italy, into a family of nobility. Giovanni Battista was orphaned at the age of nineteen months and raised by his paternal grandmother. Before reaching the age of twenty, the young count was granted a  sovereign decree declaring him of age to manage his family estates.
On 10 June 1818, Clara Anastasia Novello was born in London, England, to composer Vincenzo Novello and Mary Sabilla Hehl. A highly talented soprano singer, it was said that Clara's sweet voice 'stirred such emotions as to move even the toughest souls.' At the age of eleven, Clara began her studies at the Institution Royale de Musique Classique et Religieuse in Paris, France.
The Revolution of 1830 in France cut Clara's studies short causing her to return to England prematurely. Clara began to tour in Europe which led to monetary success and considerable notoriety due to her extraordinary voice (The Musical Quarterly referred to her as "one of the greatest singers of her day.") During this time, Giovanni had enrolled at the university to study law and there he developed a lifelong passion for politics. Influenced by the Risorgimento italiano–the political movement dedicated to creating a unified Italian state free from foreign domination–Giovanni established himself at the local and regional levels of government.
On 22 November 1843, Giovanni Gigliucci and Clara Novello, who had met in Bologna during one of Clara's tours, were married in Clara's native city of London. Clara set her musical career aside and the two moved to Giovanni's family estate in Fermo (Le Marche).
Between 1844 and 1849, the couple had four children:
Giovanni (1844-1906)
Porzia (1845-1938)
Mario (1847-1937)
Valeria (1849-1945)
In November 1849, Giovanni, Clara, and their four children were forced to leave Fermo when their home was confiscated by French troops after the French siege of Rome. For the next eleven years, the Gigliucci family would move throughout Europe living on the earnings of Clara's revived singing career.
In 1861, most of  the Italian peninsula was united as a nation under King Victor Emanuel II of the House of Savoy. The Gigliuccis were finally able to return to their home in Fermo. After the annexation of the Marche to the newly unified Italian state, Giovanni Battista was elected senator, a title he held until his death in 1893.
In the early 1860s, sons Giovanni and Mario attended military colleges in Turin and Milan.
In 1866, Mario cut his studies short to join Giuseppe Garibaldi's Red Shirts in the battle against Austria ("a great adventure," as Mario recalled in his memoirs). He went on to study at the University of Bologna.
From 1873 to 1875 Mario worked as a mining engineer on the island of Sardinia.
Mario Gigliucci and Edith Mozley
In July 1875, Mario married Edith Margaret Mozley (1847-1909), an Englishwoman he had met seven years earlier on a visit to his maternal grandparents' home in London. For the first three years, the couple lived in Stresa (Piedmont), Italy, where Mario continued to work as a mining engineer.
Between 1878 and 1885, Mario and Edith had three children:
In 1879, Mario and Edith moved to Florence with their one-year-old daughter Nerina and rented an apartment in the Palazzo Gherardesca with Mario's older brother Giovanni and his wife Charlotte Sophia Gigliucci (nee Mozley, Edith's sister). After a few months, Mario and his family moved to an apartment on Via Garibaldi, and a year later they moved to another apartment on Via Cherubini where they lived from 1881 to 1886. During these years Nerina's siblings, Donatello and Bona, were born.
1886 La Villa Romana: In 1886, Mario and Edith moved their family of five from Via Cherubini to Villa Romana (today a German art and culture institute) near Florence's southern medieval city gate, Porta Romana.
1887-1892 During the five years that the family resided at Villa Romana, Mario designed and began construction on a palazzino (today SU Florence's Villa Rossa) for his family on land he had previously purchased outside the old city walls in Piazza Savonarola.
In 1892, construction of the family's casa rossa (as it was referred to then) was completed and the family moved from Piazza Romana to Piazza Savonarola.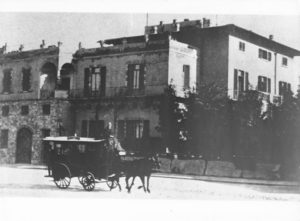 Between 1893 and 1909, Mario lost several family members: his father, brother, mother, and wife.
29 March 1893: Giovanni Battista Gigliucci died in Fermo, Italy. He was buried in Fermo.
6 December 1906: Giovanni Gigliucci died in Florence and was buried in the English Cemetery,  Piazzale Donatello.
12 March 1908: Clara Gigliucci (nee Novello) died in Rome.
16 November 1909: Edith Gigliucci (nee Mozley) died in Florence. She was buried in the English Cemetery near Mario's brother.
1914-1918, World War I
During the Great War, Mario's son Donatello served as an officer with Italy's Alpine troops in northern Italy, while both daughters, Nerina and Bona, devoted themselves to volunteer work as field hospital nurses with the Red Cross.
Marriages
26 April 1920: Nerina (age 41) married GianAngelo (Nino) Medici di Maragnano and moved to her husband's native town of Briosco (Lombardy).
18 April 1923: Donatello (age 40) married Dorothy Frances Carey.
In the 1920s and '30s Mario and Bona continued to live in the family villa. Bona, who never married, took care of her aging father until his death in 1937.
15 January 1937: Mario Gigliucci died at the age of 89. He was buried next to his wife Edith in the English Cemetery in Piazzale Donatello, just a few blocks from Piazza Savonarola.
1940s and '50s: Bona Gigliucci continued to live in the Casa Rossa until her death in 1982. In the 1940s and '50s, Nerina and Donatello visited their sister often.
Spring 1959: Nerina, Donatello, and  Bona were introduced to John Clarke Adams, professor of Syracuse University, who wanted to establish a study abroad program for the university in Florence. The Gigliucci siblings agreed to rent the first two floors and basement of the Villa Rossa to Syracuse University on the condition that Bona would live on the top floor of the villa.
Fall 1959: The first group of Syracuse Semester in Italy students arrived in Florence. For many years, Bona Gigliucci enjoyed greeting each new group of students and they, in turn, enjoyed meeting "La Contessa."
9 February 1963: The oldest of the Giugliucci siblings, Nerina, died in Briosco at age 84. Bona and Donatello decided to sell the villa to Syracuse University with the ongoing condition that Bona would continue to live out the remainder of her life on the top floor and mezzanine levels of the villa. For 23 years, Syracuse University and Countess Bona shared the Villa Rossa in a very amicable cohabitation.
8 June 1975, Donatello Gigliucci died in Florence and was buried in the Cimitero Evangelico degli Allori, just south of Florence.
6 February 1982, Bona Gigliucci died three weeks before completing her 97th birthday. Syracuse University became sole owner and occupant of the Villa Rossa.
---