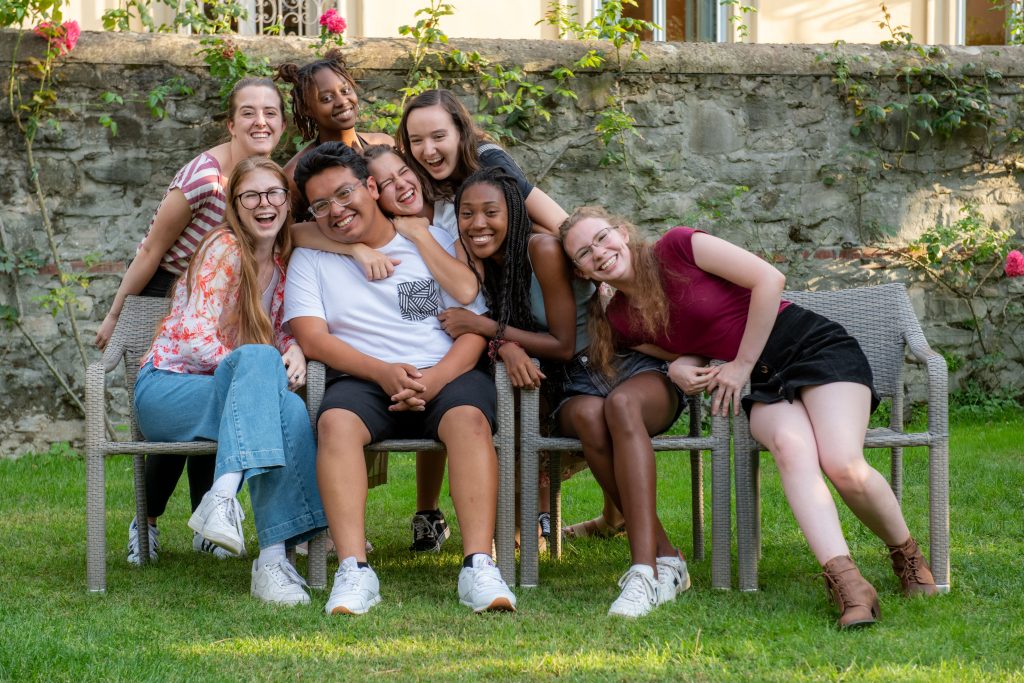 Discover Florence, the birthplace of the Renaissance and home to much of the world's renowned art and architecture.  A walkable city surrounded by gentle rolling hills, Florence fuses the mystery and beauty of its past with the dynamism and energy of the present.
We have prepared a special first-year program that includes enriching coursework, stimulating cultural activities, engaging teachers, strong student support, and exciting field trips within Italy. 
As part of a small group of highly motivated first-year students, you'll be starting off your college career with an exceptional experience and a solid academic base.

You're on the cusp of a memorable semester. So get ready to discover Florence…and get ready to discover all that you are capable of achieving!
---
Program Details
Syracuse Abroad Virtual Take-Off
August 30 – September 14: Pre-Arrival Program

Orientation begins online and will continue after arrival in Florence

All academic courses begin online. Get a jumpstart!  Meet your fellow Discovery classmates and professors and review syllabi plus foundational material for each course before travel to Florence
Welcome to Florence: In-Person Program Dates
September 15: Arrival in Florence 

September 15-17: Discovery Orientation

September 20: Classes begin

October 28 – November 1: Mid-semester mini-break; lots of fun activities will be planned for those who don't choose to travel independently

November 30: Program end date

December 10: Program end date for students participating on the optional 3-credit travelling Signature Seminar.
Housing
You will be placed in a single fully-furnished room with private bath in The Student Hotel which is conveniently located within walking distance of the Villa Rossa (where you will take your classes) and some of the city's most famous sites. This trendy hotel provides you with shared kitchen,  rooftop pool, and many more amenities.
NOTE: Due to Italian government regulations, homestays will not be an option for the fall 2021 semester.
---
Program Highlights
The Discovery Florence curriculum will keep you on track with all your first-year requirements.  The 1-credit required First Year Seminar not only guides you through the challenges and adventures of being a new college student but also keeps you connected with the Main campus and your eventual transition to Syracuse.
Discovery students enjoy local outings and activities designed exclusively for your cohort. This could include a trip to a gelateria to see how Italian ice cream is made, or to one of the many artisan workshops for which Florence is famous.
Program Travel: Italy Dive!
Discover Italy like no tourist can through faculty and staff led thematic trips based on your interests: #culturalheritage, #inclusivity&diversity, #foodie, #nature, #wellbeing and more!

Once in Florence, 'Dive into Italy' by signing up for trips to unique destinations, classic must-see places or hidden treasures that are off the beaten path – with costs covered by your program fee. These experiential learning trips will perfectly complement your semester in Florence and give you the opportunity to pick your destinations based on experiences you'd like to try (cheese or olive oil testing for instance). Locations include Impruneta, Parma, Cinque Terre and many more!

Travelling seminar:

An optional 3-credit Signature Seminar

Empires of Exchange

will be offered at the end of the semester, November 30-December 11.  Discover Ravenna, the last capital of the Roman Empire, Venice, whose empire was built on trade with Constantinople and the East, and Trieste.  Additional program fee will apply. Please note: Additional Signature Seminar offerings will not be offered in fall 2021.
Engage with your city
Immerse yourself in Florentine culture by exploring the city and visiting museums, local markets or workshops. Enjoy extracurricular activities at the Center including cooking classes, tastings, lecture series and more.

Virtual, in-person, and hybrid internship opportunities can be arranged.



---
Program Requirements
Independent Travel:

Due to international health and safety regulations, students must limit their independent travel to within Italy.  The Syracuse Florence staff will give their expert travel advice on both well-known destinations and hidden gems within the country. 

Visas

: Because the duration of the program is under 90 days, U.S. citizens will not be required to obtain a student visa.  Students without a visa will need to depart from Italy no later than December 13, 2021.

All international students requiring a student visa will work closely with our Florence visa coordinator.

Fees

: Due to the shorter duration of the program, the program fee has been reduced from $7,500 to $6,400.
---
Questions about Covid-19 procedures or health and safety abroad?