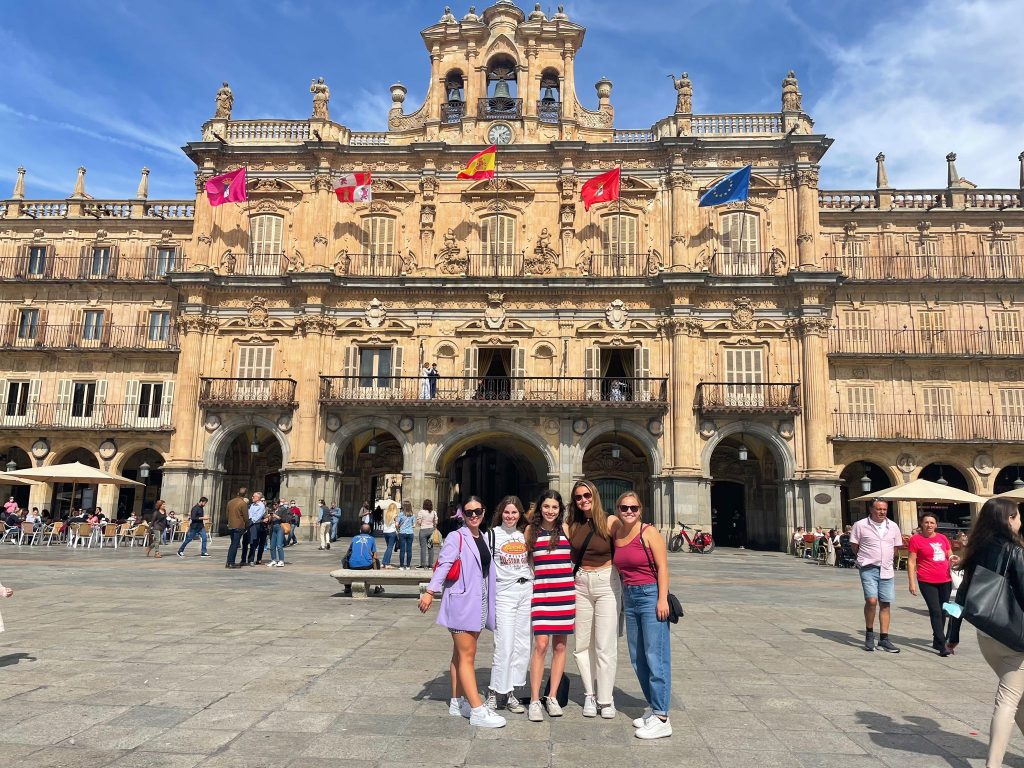 Welcome visiting (non-SU) students!
Syracuse Abroad programs are open to visiting students with programs and experiences that match your academic and career interests. No matter which university or college you attend, you are welcome to study abroad with Syracuse University at our Syracuse Abroad Centers and on select summer programs. Syracuse Abroad Centers operate in Florence, London, Madrid, Santiago, Strasbourg as well as our Central Europe program based in Poland.
As a visiting student, you will receive the following service at our centers:
Syracuse University credit and grade for your semester abroad
Onsite orientation to ease your transition into your study abroad experience
Cultural excursions with Syracuse University and the host university
Fully equipped and safe housing in either apartments, homestays, or residence halls
The opportunity to participate in for-credit internships abroad
24/7 on-site support
When applicable, access to the host university's student services
Comprehensive international insurance
A Syracuse University transcript
A life-changing experience!
---
Getting started
Visiting students are expected to meet the application requirements to study abroad for both their home institution and Syracuse Abroad. If you plan to apply, we encourage you to discuss and coordinate with your home university's study abroad office.
It is best to get the process started with your college or university first, as your acceptance by Syracuse Abroad is contingent upon official approval at home. A successful application with your host university does not guarantee acceptance by Syracuse Abroad.
It is also important to note that your university's deadlines may not line up with Syracuse Abroad. Be aware you will be expected to meet the deadlines of both. Important deadlines for the Syracuse Abroad application process are listed below:
Fall semester
Application Open: November 15
Application Deadline: March 15
Decision: Rolling Admission*
Deposit: Due within 10 days of acceptance
Spring semester
Application Open: June 1
Application Deadline: October 1
Decision: Rolling Admission
Deposit: Due within 10 days of acceptance
Summer programs
Application Open: September 10
Application Deadline: February 1
Decision: Rolling Admission
Deposit: Due within 10 days of acceptance
Rolling Admissions Policy: Many programs have a rolling admissions policy, which means applications are reviewed as they are completed, prior to deadline. To ensure full consideration, students are strongly encouraged to apply as soon as possible due to limited space. Date of application does not guarantee acceptance.
---
Here's how to get started:
Meet with a study abroad advisor
If you're interested in learning about a specific program, schedule a 15-minute appointment with an International Program Advisor to receive more details. If you're not sure where or when to go, or what steps to take first, schedule a virtual general advising or peer advising appointment. These sessions will guide you through our program options and help narrow down what programs might be best for you personally and academically.
Talk to a Global Ambassador
Global ambassadors are students who have completed a program abroad and share their experience with prospective students choosing between destinations. To find a Global Ambassador who attended a program you're interested in, visit the Global Ambassador page for recent abroad alumni and their contact information.
Where should I study abroad?
Syracuse Abroad welcomes visiting students on our five Center programs around the world, and on various summer programs. Narrowing down your options maybe seem overwhelming but we're here to help! Remember, your home school may not approve all of our options. Check your home university study abroad website, or talk with your home university study abroad office, to confirm which Syracuse Abroad programs are approved.
Visit the destination page for more information on the specific program you're interested and review housing, internships or course details. Use the program selector tool to view all Syracuse Abroad program options or begin your application.
Want more information?
Complete this form to request a viewbook or to get more information about Syracuse Abroad through email.
---
Financial Aid
You should first talk with your home university study abroad office and your financial aid office. Syracuse Abroad also offers scholarships and grants for students. For more financial information, check our page on Financial Aid and Grants available to visiting students.
---
Health & Safety
Syracuse Abroad makes the safety, security, and well-being of our students a top priority for all study abroad programs. Staff abroad at our Syracuse Centers work with students in crisis. Beyond emergencies, we understand our students may have additional physical or mental health concerns to consider before going abroad. Our student services team can assist in discussing what programs may be the best fit for your situation.
For more information, visit our Health and Safety page.
---
On-Call Staff
To best serve our students, our staff abroad and in Syracuse are part of an on-call emergency team. When faced with an emergency, a student who is abroad should use the emergency number given to them at the beginning of a program, as our staff in the area can most quickly and effectively address an emergency and connect a student to the proper emergency services, when necessary. These staff work directly with our Student Services team who will, when necessary, directly notify parents of an incident.