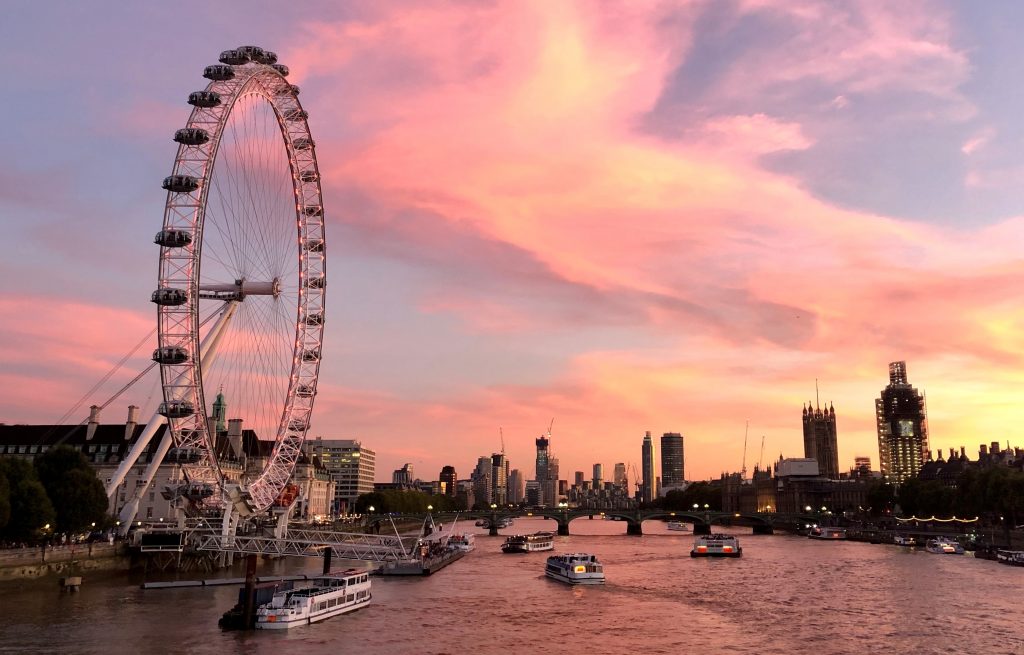 Welcome to Syracuse London!
London's cultural, social, and ethnic diversity is unlike anywhere else on earth. Whether you're a budding designer, architect, actor, or simply a student of the world, your semester here will be one of the most enriching academic and personal experiences you can undertake. Your immersion into London life comes from living in your own flat, where you will soon discover that you are part of the city's huge assortment of smaller towns, each with its own distinct character. The Syracuse London center is in Bloomsbury, the heart of academic London, and the staff and faculty of Faraday House are ready to help you make your time abroad the experience of a lifetime. To get a feel for what life is like on campus, check out the Syracuse London website.
Curious about what it's like to live and study in London? Check out Virtual London!
---
Apply now for fall 2024 programs in London, England
NOTE: The Syracuse London programs have a "rolling admissions" policy, which means applications are reviewed as they are completed, prior to the deadline.  To ensure full consideration, students are strongly encouraged to apply as soon as possible due to limited space. Date of application does not guarantee acceptance.
Exception: Applications for the London Design program will be reviewed after the deadline.
This program is for students who wish to take all of their courses at Syracuse University's Center in London. Arts and Sciences course offerings include fine arts, political science, and women's and gender studies, among many other options. Most students choose this option. Deadline: October 1/March 15; GPA – 2.5
This program is only open to Syracuse University students. Qualified students enroll in 6 credits of design course work and participate in extensive field study. Students must have completed a minimum of two and a half years of architectural design. Deadline: September 1/February 10; GPA – 2.5
(Fall only) Designed for students pursuing a BFA in Acting or Music Theatre, this program allows you to develop and hone your acting skills in specially designed workshops in collaboration with practitioners at Shakespeare's Globe. Also featured are attendance at dramatic performances and productions, and explorations of other performance venues. Deadline: March 15; GPA – 2.5
(Fall only) Computer Science students will find two major- or minor-specific CIS courses on this fall-only program. You'll round out your schedule with other London course offerings including CRS 325, Arts & Sciences and Visual and Performing Arts courses that meet your Social Science and Humanities requirement, or any other course as a free elective. Deadline: March 15; GPA – 3.0
(Spring only) Students majoring in industrial design, communications design, and interior design are invited to apply to participate in the Syracuse London design program. This program offers participants the opportunity to take courses in collaborative design and contemporary design history, complemented by studio and academic electives, in a world capital renowned for its cutting-edge design. Deadline: September 22; GPA – 2.75
Applications for admission will be reviewed after the deadline.  In order to ensure a high quality experience in this interdisciplinary program, the Florence Center: Design program will only open if both the Florence Center: Design and London Center: Design programs have sufficient demand. Students may be asked to move their application to an alternative Syracuse Abroad location if enrollment minimums are not met.  If the number of applicants exceeds capacity, decisions will be based on portfolio submissions, performance in the major, and cumulative GPA.
(Spring only) This program is only open to Syracuse University students. Designed for 4th semester Setnor School of Music students pursuing degrees in Music Composition, Music Education, Performance and Music.  Deadline: September 20; GPA – 3.0
(Spring only) This program is open only to Syracuse University students. This program is designed for Whitman School of Management majors only. Students will enroll in 9 credits of core courses consisting of MGT 247, MGT 248, and SOM 354 (Integrated Core 2). You'll round out your enrollment with electives selected from other London course offerings; however, you may not participate in an internship while in London. Students must have sophomore standing and have completed FIN 256, MAR 255, and SCM 265 (Integrated Core 1) prior to the program start. Deadline: September 15; GPA – 3.0
Whitman students, learn more about life in London!
---
Program Highlights
---
Talk to recent Syracuse London students!
The best way to understand what to expect in London is to talk to someone who has already participated in the program. Our London global ambassadors took part in London road races, interned at multinational organizations, and took advantage of Syracuse London field trips – ask them about London!
"The biggest focus for me while abroad in London was the culture. Seeing the sights (and tons of soccer games) and snacking my way through the country was how I was able to learn about the culture, and it proved to be an incredibly valuable experience."

– Allie Rosen '24
Read more about Allie's experience in London: Reasons why I love London
---
Syracuse London Viewbook
An overview of the Syracuse London program is available in our viewbook. Request a copy of your own by filling out this form to have one mailed to you!