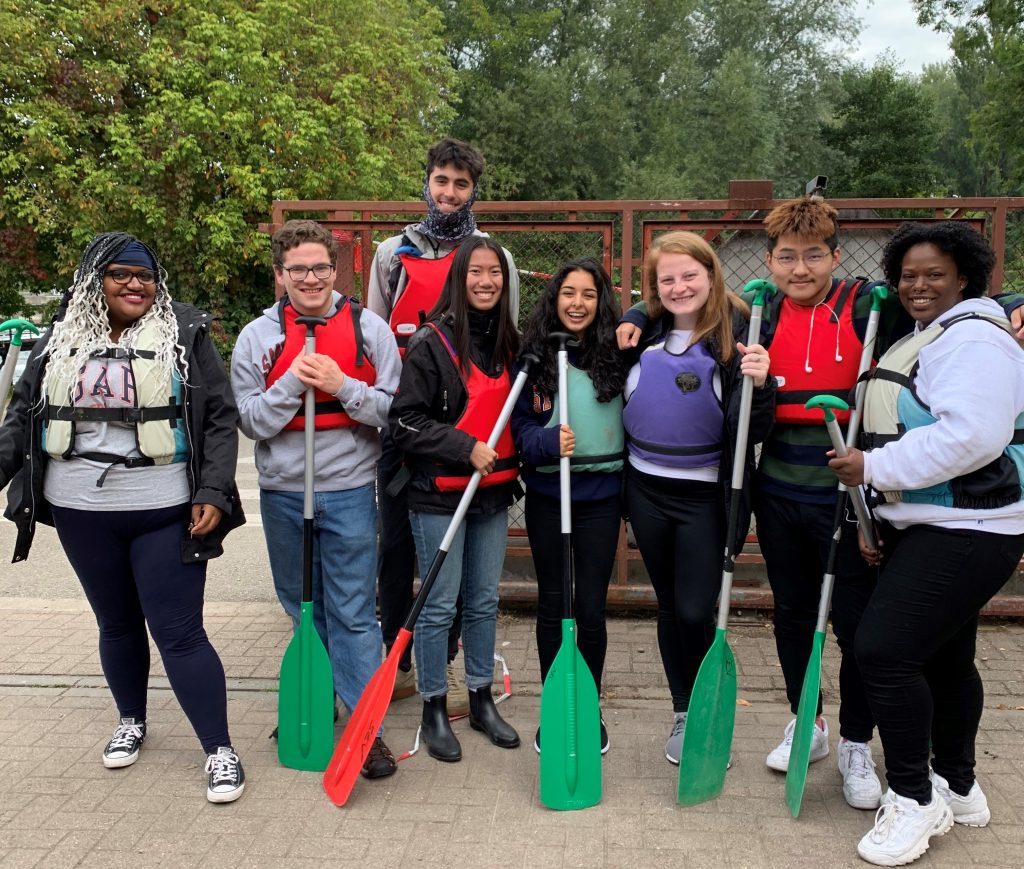 Strasbourg is one of France's most dynamic cities, and certainly its most European city. Situated right on the border with Germany, and a short train ride from Switzerland, Strasbourg is the ideal place to experience the combined delights of France and its neighboring countries.
We have prepared a special first-year program that includes enriching coursework, stimulating cultural activities, engaging teachers, strong student support, and exciting field trips.
As part of a small group of highly motivated first-year students, you'll be starting off your college career with an exceptional experience and a solid academic base.
You're on the cusp of a memorable semester. So get ready to discover Strasbourg, and get ready to discover all that you are capable of achieving!
---
Program Details
Program Dates
Pre-arrival online orientation: starts August 16
Arrive in Strasbourg: August 24
Required orientation in Strasbourg: August 24–28
CAS 200 study tour: August 29 – September 1
Semester Classes begin: September 4
Semester Break: October 28 – November 5
Final exams start: December 11
Program ends: December 15
The Syracuse Strasbourg Center
The Syracuse Strasbourg Center is located in a recently renovated villa, just a short walk from the European Institutions and downtown. With its classrooms, computer cluster and staff offices, the Center will be your base in Strasbourg. The high staff-to-student ratio means that you'll always have someone to turn to if you need any kind of assistance, whether it's for renting a bike or figuring out the local cell phone companies. We're here to help you get the most out of your time in France!
Housing
Living with a host family is a key part of our program! Not only will you be able to practice your French on a daily basis, but you'll gain deeper insight into French culture. You will have your own room in your host's house or apartment, and will be provided with breakfast every morning, and dinner five nights per week. With your transportation pass (provided by Syracuse Abroad) you'll find that it's easy to get to the Syracuse Center. Learn more about living with a host family.
---
Program Highlights
The Discovery Strasbourg curriculum

will keep you on track with all your first-year requirements.

You will participate in

local outings and activities

designed exclusively for Discovery students.

All-School Travel : Discovery students enjoy trips that combine cultural activities with free time for personal exploration. Excursions in recent semesters have included Alsace and the neighboring Black Forest; longer trips to the Burgundy region and to Paris. And remember, these all-school trips and excursions are covered by your program fee, and include transportation, lodging, visits and some meals.
Engage with Strasbourg:
Use your program-provided

Student Culture Card

to take advantage of Strasbourg's rich cultural offerings.

Meet French and foreign students at

Language Exchange Meetings

.

Go deeper into the community by signing up for a

Community field internship

at a school, a non-profit organization, or even a pastry shop.

Attend a session of the

European Union Parliament

and watch Europe's leaders debate key current issues.

Visit the

European Court of Human Rights

, just down the road from the Syracuse Center, to sit in on a court case.
---
Program Requirements
Independent Travel:  For European countries, some form of Covid vaccination and/or testing documentation may be required. For more information, view Covid-19 Plans & FAQ.
Passports & Visas: All students are required to obtain a French student visa for their semester abroad. You will receive detailed instructions and close assistance from Syracuse Abroad. You'll also need a passport! Learn more about passports and visas.
Fees:

View program cost details on our

Discovery Strasbourg budget sheet